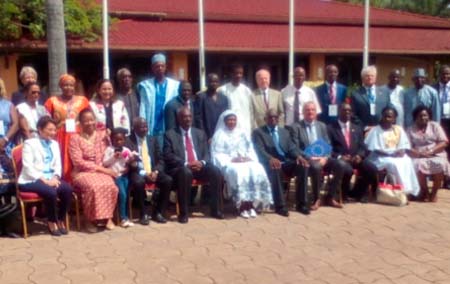 The Ministry of Finance with support from the United Nations Development Programme (UNDP), yesterday hosted a daylong donor conference at the Kairaba Beach Hotel to discuss priority sectors of the National Development Plan.

The five-year strategic plan (2018-2021) is meant to meet the aspirations of the New Gambia government in making the country one of good governance and development.
Attended by the development partners and World Bank representative, the major sectors the plan seeks to tackle are agriculture, energy, infrastructure, security, education, health and empowerment of youth and women.
Speaking on the occasion, the Finance Minister, Amadou Sanneh, explained that the National Development Plan is the vehicle to guide them through strategies and actions on the economic and social challenges that have been inherited after 22 years of poor political and economic governance under the last regime.
The template is to guide in delivering good governance, accountability as well as revitalise a transformed economy, he said.
The Finance Minister disclosed that the development plan followed inclusive process from development partners, civil society, and community organisations on the coalition manifesto of development priorities agreed by the cabinet.
He further disclosed that the plan outlines top priorities like good governance, human rights and security sector reform, macroeconomic stabilisation and economic management, modernised agriculture, agribusiness and fisheries.
It also outlined human capital health, education and social protection, infrastructure and energy, tourism and culture, youth empowerment and development and private sector development and trade.
According to him, the meeting would give opportunity for transformative strategic areas and investment programmes as well as enabling policies and measures to develop a spur growth, reduce poverty, inequality, enhance youth employment and help consolidate the democratic transition and gains.
He said the national development plan would focus on achieving good result during implementation, hence he commended the United Nations Development Programme for their financial and technical support during the process.
Ms Ade Mamonyane Lekoetjie, United Nations Resident coordinator, speaking on the occasion, said the finalisation of the national development plan is the first step in rebuilding The Gambia after facing challenges.
The plan would articulate the opportunity to effectively manage resources and strengthen policy amongst other sectors of the economy, she said.
She assured that the UN system would support initiatives formulating the medium term from 2018 to 2021 to accelerate growth and employment.
Madam Lekoetjie outlined the government's efforts in promoting democratic governance, national unity and respect of the rule of law and human rights.
She further assured that they and other development partners would support in strengthening the plan and budgeting process to ensure no one is left behind, especially the most vulnerable.
The World Bank Country Director, Louise Cord, said the National Development Plan is an important milestone in the development of The Gambia.
She added that the World Bank is an institution to partner with The Gambia and would support the government to achieve its development priorities as drafted.
Read Other Articles In Article (Archive)