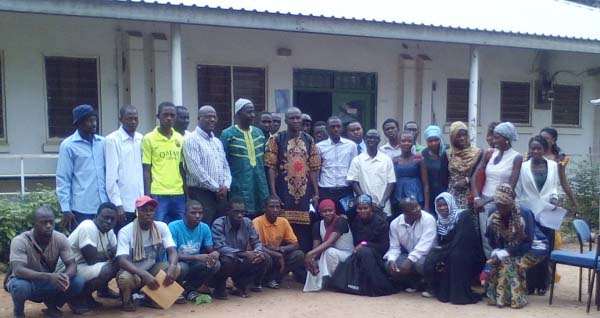 The governor of the Upper River Region has called on youth of the region to tap the opportunities provided by The Gambia government for personal growth and development.
Governor Omar Ceesay said almost all the entire projects that the government has implemented have youth component which if utilised by the youth would help them to contribute meaningfully towards personal and national development.
He made this remark during the official opening of 12-day training for 27 young people under the Rural Entrepreneurial Venture Creation and Experimental Learning (REVCEL).
It is underway at the regional education conference hall in Basse Mansajang, organised by the Creating Opportunities for Rural Youth (CORY).
Governor Ceesay said the importance of such training in URR, one of the farthest regions of The Gambia, cannot be overemphasized as entrepreneurship is the way forward towards national development.
He said the young people of the country should change their attitude towards national development crusade, noting that the youth have to engage in the projects brought to them by the government, to be able to earn resources that will improve their living condition.
The URR governor said the government is committed towards youth empowerment as "the political will is already there".
He pointed out that the government can only bring projects and create the conducive environment for young people to explore; it is the responsibility of the youth to utilise those opportunities.
Governor Ceesay commended CORY for taking the training to his region as the "region is one of the most vulnerable regions in terms of development".
URR is predominantly a farming region but the governor said "farming alone cannot lift us from where we are".He said there should be entrepreneurs to buy the agricultural produce; hence "the training for youth on entrepreneurs is welcomed".
The deputy Governor of URR, Cherno Barra Touray, told the youth:"Without determination and commitment, you are just going to waste government resources and if the mantle of leadership if given to you, you are going to make us fail."
The financial controller of the Global Youth Innovation Network (GYIN-Gambia), Mariam Saine, said CORY is a new initiative that supports young rural women and men in West and Central Africa to become entrepreneurs.
She said the three-year project is being implemented in four countries – The Gambia, Nigeria, Cameroon and Benin – and it is focused on people between the ages of 18 and 35 who are involved in agricultural production and activities associated with rural markets.
Mrs Saine said the project targets rural youth institutions for business training, advocacy, networking and knowledge exchange and it has male-female ratio of 1:1.
"I believe after undergoing a rigorous twelve days of training, the participants would be able to create their own venture or start up a business," she said.
Read Other Articles In Article (Archive)