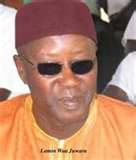 The Governor of Lower River Region, Alhaji Lamin Waa Juwara, has called on the public to vigorously engage in community disaster risk reduction strategies to mitigate the impact of disasters when they occur.
He made these statements recently at the close of a three-months displaced and damaged farmland households campaign.
The distribution was conducted in the three districts of the region, namely Kiang West, Kiang East and Jarra East.
Governor Juwara expressed his gratitude and appreciation to the World Food Programme (WFP) through the National Disaster Management Governing Council (NDMGC) and the National Disaster Management Agency (NDMA) - Office of the Vice President, for their resource mobilization strategy in supporting disaster affected people in the country and LRR in particular. The LRR Governor said the three-month food support has strengthened the food needs of the people in their recovery process stressing the need for people to engage in Community Disaster Risk Reduction strategies to mitigate the impact of disasters whenever they strike.  
It is common knowledge that disasters wipe out years of development work at a single stroke, he said, calling on the communities and other stakeholders to base their development programmes and project intervention on sustainable development strategy at the community level so as to reduce the impact of disaster.
Governor Juwara finally thanked the LRR Regional Disaster Management Coordinator, Lamin Saidy, and his committee for their steadfastness and willingness in responding to all types of disaster in his region.
RDMC Lamin Saidy, for his part, said the three months of WFP food distribution was timely because it came at a time affected people were in dire need of food support.
Mr Saidy pointed out that the food assistance was made possible through the support of the National Disaster Management Governing Council and the National Disaster Management Agency.
He also spoke on the need for community disaster risk reduction concept for building safe and resilient communities in averting disasters of all kinds in the coming years.
"We have to look at disaster holistically and as we address one issue, let us not forget that there are other steps as well to be taken into consideration, and I am calling on the beneficiaries to be prepared by coming together for comprehensive disaster risk reduction interventions in your community," he said.
He revealed that over 1,035 people benefited from the food distribution which included rice, beans, oil, CSB and salt. 
Read Other Articles In Article (Archive)