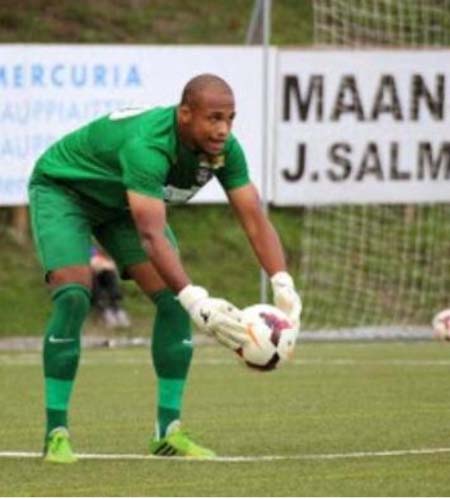 Sam Jammeh is at last settled after shuttling between clubs to firm up his career. A product of Viikingit FC, the Gambian has had a number of trials crossing the divide from Finland to Sweden.
Elfsborg IF and Degerfors –all Swedish giants – including a sprouting IFK Sunne take space in his resume.
But over the weekend he took a huge dip into the deep waters signing professional terms with fallen giants FF Jaro, a club now in the Finnish second tier on the back of demotion from the top flight the previous year.
A recruitment spree by the club in efforts of a re-launch to the Premier League saw Sam Jammeh offered a contract but not after he impressed the club's board on tryout.
His acquisition demonstrated the club's audacious ambition to not only secure promotion in the first attempt but also to climb in a style with the Gambian - one of their very trustees - between the sticks.
'I'm very happy and delighted to join the club. This is a good step for me and I'm looking forward to the coming season. It's a good challenge, it's big and a great club. So, this is a right step for me," the former Angeback and Atlantis FC shot-stopper said from his base in Jabobstad town, Finland, upon completing his season-long deal.
His switch, it's hoped, heralds dawn of a new era of a starlet looking to stamp his foot to the big stage and for Gambia national team ardent on evoking all of spells to revise an otherwise unprepossessing Gabon 2017 qualifier streak.
The Gambia Football Federation last week ushered in a new coach Sang Ndong replacing Raoul Savoy, and Jammeh – one of squad regular call-ups – can only hope it's fresh start to all concerned.
"Yes a new coach and I hope new start for everybody," he quips, adding: 'It's disappointing how it ended up for the former coach. But now we (the national team) need to start playing as a team and not as individual players. So I hope the new coach will be the missing piece of what we were missing earlier."
The Gambia sit merely ahead of South Africa and third in a group topped by Cameroon – a statistics that belies the true worth of a Scorpions outfit littered with talents, Group F second most star-studded side.
Many factors including limited resources play out in the flop.
Sam and co aim shots at Mauritania, the minnows turned big boys beaters of the group at likely Senegal.
With patience already thinning they know they must beat the Mourabitounes to keep alive any hopes of defying the odds, and Sam knows that.
"Fans are expecting a win and the three points and the players as well," he says. "We got to start playing like we can. We haven't still played 100% but I hope in these coming games, we will do the job for the country and the fans."
He continues: "My goal is to be number one goalkeeper for long time. With the last coach (Raoul Savoy) that didn't happened but I hope with our new coach I will get chance to show all the fans that I will be big impact for the team. I know when I get chance to show all the fans they will understand all the talks about me."
The Gambia must win the remaining four fixtures to qualify beginning with Mauritania March 22.
Read Other Articles In Article (Archive)