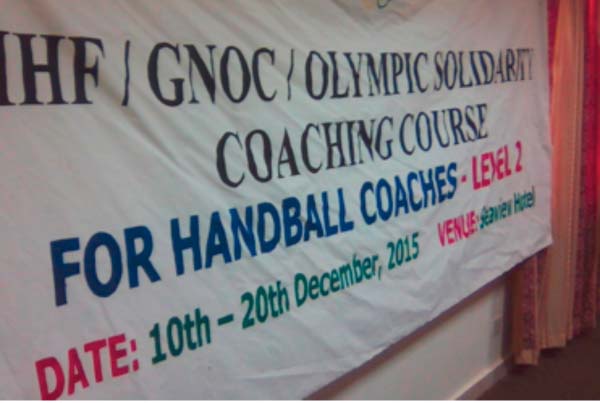 The Gambia National Olympic Committee (GNOC) in collaboration with the International Handball Federation (IHF) through funding from Olympic Solidarity (OS) organized a ten- day international Level 2 coaching course for 20 Handball coaches from The Gambia.
The course, held from 10 to 20 December 2015 at the Seaview Gardens Hotel, was directed by the International Handball Federation (IHF) expert Mr Peter Kovacs from Hungary.
Speaking at the closing ceremony, the course coordinator, Mr Momdou Demba, said that was the first time a Level 2 coaching course for Handball was held in The Gambia and hailed GNOC, IHF and Olympic Solidarity for their commitment and foresight of seeing Gambian Handball to another level.
He commended the course director Mr Peter Kovacs for his extra efforts at making sure every participant contribute positively to the process.
Giving the overview performance of the course, course director Peter Kovacs said he was pleased with the atmosphere in which the course was held.
"The future of Gambia Handball lies in your hands; if it fails you will be held responsible and if it progresses you will make the country proud," Mr Kovacs told the coaches. "Don't be selfish, share the knowledge you have gained from the course with other coaches who were not fortunate to be part of this course."
Continuing his words of wisdom, Mr Kovacs warned the participants that if any coach feels that they know everything, they are preparing to fail because the game is developing every day and they need to apply a continuous learning process to make headway.
In his closing remarks, the secretary general of Gambia Handball Association (GHA), who also doubles as Bureau Member of The Gambia National Olympic Committee (GNOC), Haruna Cham, said he is pleased with the performance and commitment shown by the participants for the past 10 days.
He added that his association would do every humanly possible to uplift the game of Handball in the country with the support of the new crop of level 2 coaching certificate holders.
He called on the coaches to work together in the interest of the game.
"We expect to see more technical innovations in our next league," he challenged the participants.
Read Other Articles In Article (Archive)