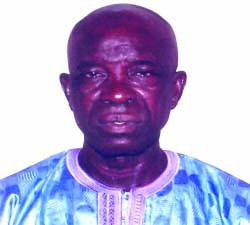 The fall out in the political matters of the Gambia National Olympic committee between the body and the Ministry of sports over the latter's August 3rd elections seem to be raging on.
Last night, The Gambia National Olympic Committee GNOC, has through its legal lawyer Ida Drammeh, issued a strongly worded ultimatum contained in letter addressed to the, NSC, urging it to publicly retract its press release of last week orface an injunction from the court.
The National Sports Council's press release last week stated that the ministry of Sports did not recognise the GNOC members, and that they should not organise or represent the Gambia in any sports .
In their reaction, drafted by lawyer Ida D. Drammeh, the GNOC gave a seven days ultimatum to the NSC to withdraw its press release and any other similar letters from the Ministry on this matter or else they would have to resort to courts to seek redress.
The GNOC lawyer further argued that they have long suspected are and now convinced that third party interest are now dictating the actions and statementof theNSC and the Minster of Youth and Sports to the detriment of theConstitution, the national sports act and the constitution of the GNOC.
The letter went ahead to state that both the GNSC and the ministry do not seem to understand the constitution of the GNOC and urged them to abstain from interfering in any way of form from the independence and autonomy of the GNOC.
Accordingly, the letter went on to warn that if the NSC and the ministry of sportscontinue to interfere in the GNOC as it has been todate , the GNOC would have no alternative but to seek a restraining order against the individuals concerned something the GNOC would not prefer.
Read the full text of the GNOC's legal representative in our tomorrow edition.
Read Other Articles In Article (Archive)