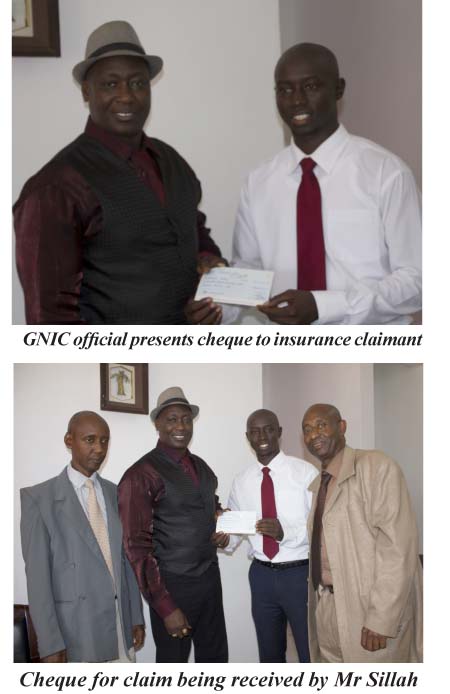 The longest-serving insurance company in The Gambia and the first for that matter, Gambia National Insurance Company Limited (GNIC), established in 1974 as a subsidiary of the Gambia Commercial and Development Bank, recently paid claim to one Lamin Sillah, CEO of Chossan Bar and Restaurant.
The insurance company initially only dealt with motor vehicle insurance but later began to diversify by selling other classes of insurance besides motor vehicle insurance. These included accident, fire and marine.
In 1983 GNIC started to sell life and travel insurance. On Tuesday at its main office, located at 19 Kairaba Avenue, the company paid claim to Mr Sillah who was involved in a car accident on 28 April 2016, around Senegambia highway and his grand Cherokee car was mangled, which is worth half a million.
According to Mr Sillah, the process for claiming his insurance was "extremely easy" because with just a phone call he was given an appointment and was also asked to submit a copy of police and accident report with his driver's licence.
He was then given an assurance that his claim would be paid within 14 days. "But it's in fact done before the said date and the process was super smooth compared to the previous company he was dealing with. It went to the extent that I had to sue them to court," Mr Sillah referred to his former insurance company. He therefore recommends GNIC and calls on everyone to insure with Gambia's longest-serving insurance company.
GNIC, a lion and doyen within the insurance industry in The Gambia, is also recommended for its sound cooperate performance and straightforwardness.
Most importantly with its 42 years of experience in the field, GNIC is highly acclaimed for its professionalism and motivation, which is key for every customer. "And that's what GNIC provides," the company stated.
"When you insure with GNIC, don't worry. If your claim is genuine, relax and have a peace of mind because GNIC will pay you PROMTLY!" it assured, saying:  "Always remember the proverb Mak Baah Na Si Kerr."
Read Other Articles In Article (Archive)