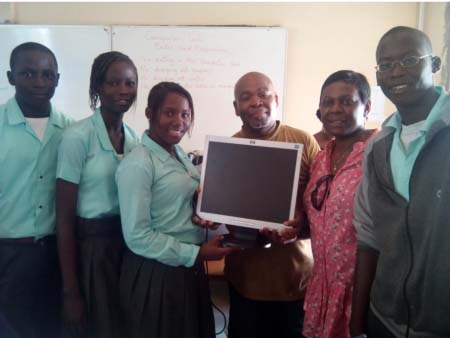 A British couple, Merrily and Joel Burke, has donated some IT and sports equipment worth over D70,000 to Glory Baptist Senior and Junior Secondary School in Bakau at a ceremony held at the school premises.
The items included 11 computers with accessories, a server, 2 scanners and 2 printers, as well as a complete set of football kits.
The couple, based in Birmingham, disclosed that as regular visitors to The Gambia, they were responding to the needs of the community to ensure educational institutions they identify with are assisted with materials they may not have ready access to or have difficulty in obtaining.
To this end, with other individual members of their community, they are part of Alpha Community Project, based in Small Heath, Birmingham, the UK.
As a church community project, their mission is to work for and serve communities. In partnership with and support from Church of God of Prophecy (COGOP), they were able to acquire the items as well as pay the cost of shipment to the country.
They further disclosed that Caroline Brown, vice-principal of the school in charge of communications and student affairs, served as a liaison who facilitated the donation.
The couple, on behalf of their partners and supporters, expressed hope that the school would find the items useful to further help students improve on both their academic work and extra-curricular activities.
"We are here to respond to the needs of the needy and help as best as we can," they added.
Receiving the donation, the Principal of the school, Arnold T. Sowah, while thanking the benefactors, observed that the donation could not have come at a more opportune time as information technology and sports are bringing the world much closer than ever before.
Mr Sowah urged the students to always take the opportunity to discover what is outside of their world.
He assured the donors that the equipment will be put to such maximum use that on their next visit, they "will see positive signs as a result of the utilization of the donation."
Present at the ceremony were Elizabeth Adade, vice-principal, in charge of academic affairs, and a cross-section of staff and students who expressed delight at the donation and reassured the donors that the items would be put to the best of uses to make the benefactors proud of their effort.
Read Other Articles In Article (Archive)