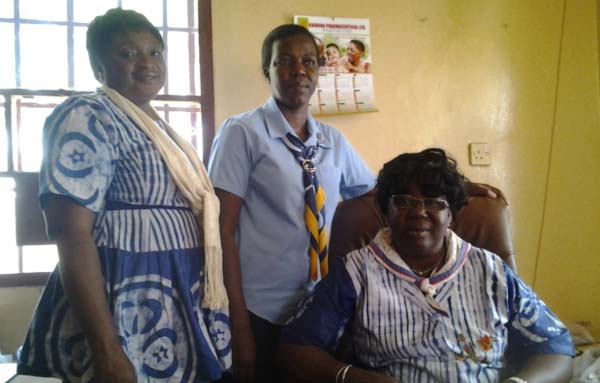 Gambia Girls Guide Association Saturday joined the rest of the world to celebrate World Thinking Day held at its headquarters on MDI road.
The celebration, which brought together girl guides, girl scouts, school children and guiders, centred on the theme: "Education opens doors for Girls and Young Women".
Speaking at the celebration, Mrs Yamundow Jagne Jobe, Chief Guide Gambia Girl Guides Association, said World Thinking Day is celebrated every year on 22 February.
She said on this special day, Girl Guides and Girl Scouts all over the world come together as a family to celebrate, adding that the day was first recognized and created in 1926 at the 4th Girl Guides and Girl Scouts International Conference held at Girl Guides and Girl Scouts of then USA's Camp Edith Macy (now called Edith Macy Conference Centre).
She said all the participants at the conference discussed and decided that there should be a special day when girl guides and girl scouts over the globe think of each other, reflect and give thanks and appreciation to their God for sparing their lives and being in good health.
Mrs Jagne Jobe said the Gambia Girls Guide did adopt the theme for 2014 and are working intensively through advocacy and policy promotion in collaboration with partners to enroll and retain girls and young women in schools.
She said the Gambia Girl Guides Association through its vigorous and aggressive membership drive has increased its membership, which now stands at 17,312.
She added that the Gambia Girls Guide Association is greatly concerned with the development of the community and therefore, participates in all developmental programmes and activities organised at community or national level.
She said the association organizes community development programmes as its vital contribution to national development.
She also stated that the association organizes workshops and seminars on health-related issues that affect girls and young women, such as early marriage, teenage pregnancy, prostitution, sex abuse, sexually transmitted diseases, baby dumping, and female genital mutilation.
She revealed that the association has established a skills training centre at its headquarters in Kanifing and Soma, which annually caters for about 200 young girls and most of whom are early school leavers who could not continue with their education because of socio-cultural problems such as poverty, early marriage and teenage pregnancy.
Rose Kioko, WAGGS Africa Region, said this year their founders Lord and Lady Baden Powell would be celebrating 157 and 125 years respectively.
She said it was their idea to celebrate this day by thinking of each other and appreciating their sister guides around the world.
She added that almost 100 years since they started celebrating Thinking Day, their celebrations had impacted on millions of lives around the world."I am sure our founders would not believe what the movement they started over 100 years ago has achieved today," said Madam Kioko.
She said this year they had yet another great opportunity to change the lives of thousands of girls and young women in Africa."Together with girl guides and girl scouts around the world, our celebrations and activities will focus on MDG 2 to achieve universal education," she stated.She said they strive to ensure that all girls have an opportunity to achieve their fullest potential and for this to happen education is crucial.
"Today an estimated 250 million children are either out of primary education or are unable to read or write even after 4 years in school," she lamented.
She said great strides have been made over the last few years but there is still more to be done to ensure children, both boys and girls, have access to primary education and are able to complete the full course of primary schooling.
She said The Thinking Day donations they make this year would be used to support one focused country in each of the 5 WAGGS Regions to take action on MDG 2 impacting girl guides and the communities around them.She said the activities planned by their member organizations would contribute tremendously to the achievement of universal education.
"I look forward to hearing of the different actions you are taking this year and to celebrating with you our collective contribution to changing the lives of girls and boys in our communities," she concluded.
Read Other Articles In Article (Archive)