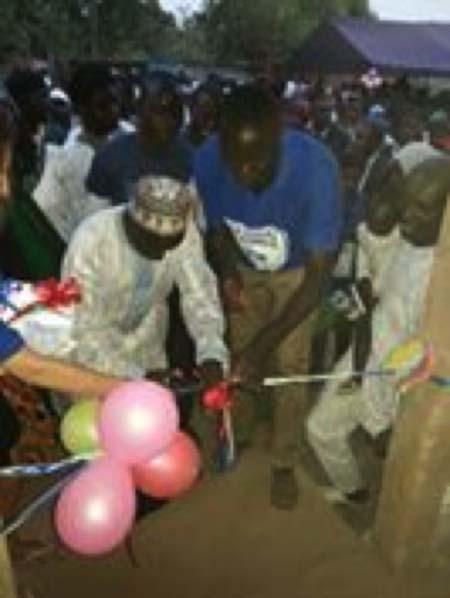 Global Hands Gambia recently opened a new hub in the community of Manduar in the West Coast Region, as part of its continuing support for grassroots development, at a ceremony held in the village.
In his remarks, Jimmy Hendry Nzally, the president of the Global Hands Gambia recalled that his organization was founded on 24 January 2012, with the ultimate aim of grassroots development.
They are proud to lay their first foundation brick thanks to the commitment and tireless support from members globally, he said.
"It's that kind of flexibility and dedication that will help this organization grow to its full potential. Our positive attitude and hard work have had a terrific influence on the way the entire world is viewing our structure," said Nzally.
Highlighting on their recent achievements, Nzally disclosed that at least 10 young Global Hands Gambia members and two from Global Hands Demontfort University (DMU) have recently received leadership training in order to work out the solutions and build their minds on entrepreneurship.
He thanked the Global Hands DMU and London for their efforts, adding that it helps them to continue smooth operations.
Dr. Momodou Sallah, founder of Global Hands, who is also a senior lecturer at Demontfort University (DMU), hailed the community for providing them a 75 X 75 meters free plot of land to establish a hub for the development of young people.
"I earlier promised the people of Manduar village that whenever I'm done with your village, with the motto: "global hands will build a better Gambia with our own sweat", you will not only be recommended by the country or Africa, but the world at large," he said.
"The dream hub is opened, and this is just the beginning of a life time partnership for development, innovation and growth between Global Hands and the people of Manduar village," he said.
Mr Sallah added that the hub would be a center for progress and innovation, that visualizes creating space and the atmosphere to produce the greatest leaders and social entrepreneurs with potentials to lead the development of The Gambia.
Boston William, a student of Global Hands DMU, said the main focus of young people in this time is education, entrepreneurship, agriculture, health and environment.
He added that the hub in Manduar village would help in earning young Gambians entrepreneurship skills.
Global Hands DMU, Global Hands London, and Fabakary Kalleh of National Youth Council, community youths and elders, attended the programme.
Read Other Articles In Article (Archive)