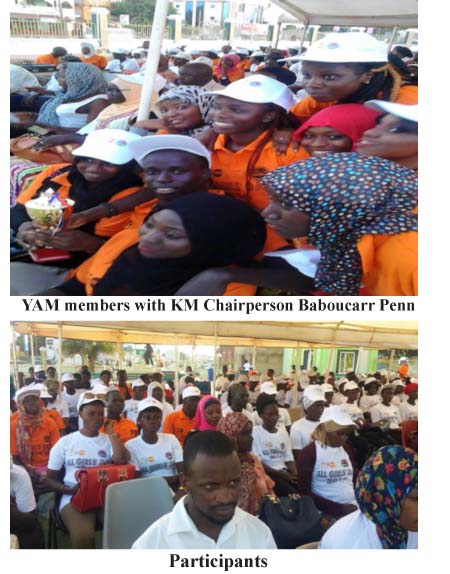 The Executive Director of Gambia Family Planning Association (GFPA), Yankuba Dibba, has said that a girl-child is not only a piece of work, but an asset for national development.

Mr Dibba's statement was delivered on his behalf by Modou Njie, senior programme officer at GFPA, during the commemoration of 'All Girls Day' organized by the Youth Action Movement (YAM), a youth group created by GFPA, with the theme: "Protecting Girls' rights is our responsibility".
The activity was funded by the United Nation's Population Fund, UNFPA.
Youth Action Movement (YAM) is a strategy that was designed under the auspices of the Gambia Family Planning Association's New World for Youth Project, with the aim of building capacity and empowering young people from the age of 10-24 on their Sexual and Reproductive Health and Rights (SRH) needs, so as to serve as peer health educators.
YAM chapters have been formed across the country with a membership of over 500.
All Girls Day was set aside by YAM to put the spotlight on every girl-child who in one way or the other has lacked or is being denied the right to SRH services or information.
The celebration attended by youth groups and organizations, as well as students from tertiary institutions, was held at the Youth Monument at Westfield on 8 September 2016.
The GFPA Executive Director added that a girl is expected to be healthy, safe, educated and empowered.
However, he said, in reality accepted social norms in The Gambia provide a gateway for harmful traditional practices such as child marriage.
Mr Dibba said the unequal power relations, poverty, the denial of their right to control their sexuality and bodies must be addressed in order to address these practices, adding that of recent a law has been enacted to address these practices.
He continued: "It is anticipated that government will continue to realize the sexual and reproductive rights of adolescents, both the married and the unmarried, by investing in sexual and reproductive health and providing competencies in sexual and reproductive health rights, information, education and services that are accessible to girls' of all ages to realize their sexual and reproductive health rights".
Dibba said if every girl is valued and given equal opportunities as their male counterparts, they would be freed from not only early marriage, but all forms of violence.
Mr Dibba thanked UNFPA for funding the activities of YAM for the past years.
Baboucarr Kebbeh, speaking on behalf of the Executive Director of National Youth Council (NYC), revealed that studies have shown that girls and women who are educated and marry later are more likely to earn an income.
They invest that income in healthcare, food, education, childcare and household durables, directly contributing to their country's economy and development, he added.
He said: "Women who have their babies later in life are healthier, have educated children and help end perpetual cycles of inequality, discriminations, abuse and poverty."
He stressed the need for men to stand firm by their sisters, and serve as social police in the quest to enable them realized their dreams and aspirations.
"We cannot tackle these abuses and violations in isolation. There is an inextricable link to abuses and exploitation that affect many girls and women throughout their lives. The call for a strong information seeking, strong campaign and advocacy, but most importantly each of us should be his/her brother or sister's keeper to address these challenges," he said.
Baboucarr Penn, the Kanifing YAM Chairperson, said he was pleased to reiterate that GFPA recognizes that young people have sexual and reproductive health needs and rights that ought to be respected and addressed.
He said this was why the association established a youth-friendly center, which is a model facility and the first of its kind in The Gambia.
"The New World for Youth Project situated at Bundung aims at empowering young people to take decisions about their reproductive health and rights, and providing them with services to live a healthy life."
He gave the genesis of YAM, and added that their activities include advocacy related to SRH and the rights of youths and adolescents, as well as behavioral changes, peer education and counseling and events which allow social interaction and learning between young people.
The celebration was characterized with drama performance on access to SRH services, musical performances, and the awarding of certificates to members who have rendered selfless support to YAM.
Baboucarr Penn was awarded with a trophy for being the most hardworking YAM member.
Read Other Articles In Article (Archive)