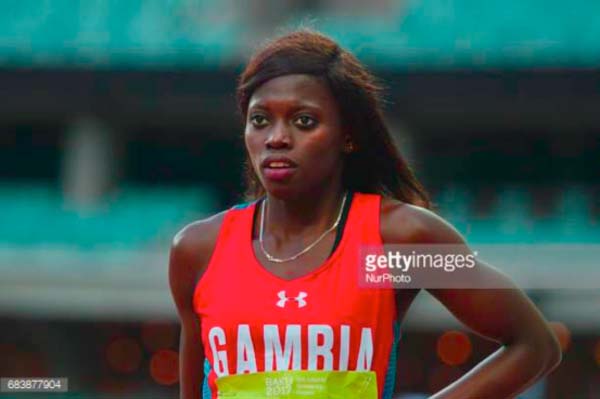 It has been an unfortunate and disappointing performance for The Gambia's athletic giant Gina Bass, who failed to advance to the final rounds at the ongoing IAAF World Championship in London.

The 22-year-old athlete, undeniably the fastest female runner in The Gambia, fell short of her qualification target and bowed out of the London championship in huge disappointment.
In spite of her recent drop in form, Gina remains Gambia's fastest female sprinter and the biggest hope in major athletics championship thus far.
She broke the national record when she won a gold medal while representing The Gambia at the World International Athletics Championship that took place in Baku, Azerbaijan, last May.
The industrious young sprinter, who also holds national records in the 100 & 200 meters, finished first in the 100 meters race in Baku, en route to claiming the gold medal.
She continued her impressive performance and came out 2nd in the 200 meters race to grab the silver medal, bringing her total number of medals to two, (gold & silver), during the Azerbaijan games three months ago.
She secured qualification to the ongoing IAAF championship in London in the process.
This is the highest achievement registered by a Gambian athlete in that category and arguably the best ever.
Gina also represented The Gambia during the 2016 summer Olympics games that took place in Rio de Jenerio, Brazil, as the country's flag bearer.
She was placed 52 during the Rio Olympic Games but her latest drop in form meant she could miss out on her record timing of 20:03secs she set during Islamic World solidarity games held in Baku, Azerbaijan.
Gina was recently awarded female athlete of the year by the Sports Journalists association of the Gambia in recognition of her outstanding performance in the field of athletics.
However, Gina is competing in the London Games along with fellow sprinter and comrade Adama Jammeh, who also fell short of a qualification berth.
Adama finished 5th on Monday with a timing of 20:79 seconds, a result that is not good enough to see him advance to the next round of the prestigious athletics championship.
The athlete duo are expected to return home earlier than initially scheduled following their early exit from the world's second highest athletics championship.
Adama 23, like Gina, was also named best athlete (men category), of the year by the country's sports journalists following his brilliant athletics display over the past 12 months.
He represented The Gambia at the world athletics championship in Beijing, China, African athletics championship in Durban as well as the Rio Olympics games prior to his latest participation at the London World Athletics championship.
Read Other Articles In Article (Archive)