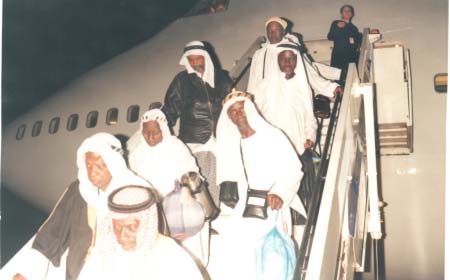 Some 641 Gambian pilgrims were flown out to Saudi Arabia over the weekend, with about 500 others expected to leave in the next 48 hours, official sources from the national carrier GIA told The Point Sunday.
Babucar Fatty, public relations officer at the GIA, the sole operators of  the Hajj programme,  said the  latest plane left Saturday night with some 321 pilgrims while the first left on Friday with almost the same number, 'and we have received information that they have all moved up to their hotels after being transported by bus from Jeddah International Airport''.
He also disclosed that there would be two remaining flights, to take about 500 more pilgrims in the coming day or two.
''So far we are on top of the job, which is to deliver quality service, ease, comfort and convenience for the people of The Gambia, in whose name we operate and in whose service we were formed to do. I wish to thank our team and partners in Saudi Arabia, the  Hajj Commission, GRTS, the consulate and  embassy staff and all others for their professionalism and patriotism in attending to the pilgrims satisfactorily,'' Fatty said. 
He also conveyed thanks to President Yahya Jammeh for his keen interest and efforts in facilitating the whole exercise.
The GIA flights to Jeddah are being operated by Ethiopia Airlines using their wide bodied Boeing 777 planes, that carry over 300 people at a time.
Meanwhile, at the time of going to press, the remaining pilgrims were said to be ready to leave Banjul at 4am this morning.
Read Other Articles In Article (Archive)