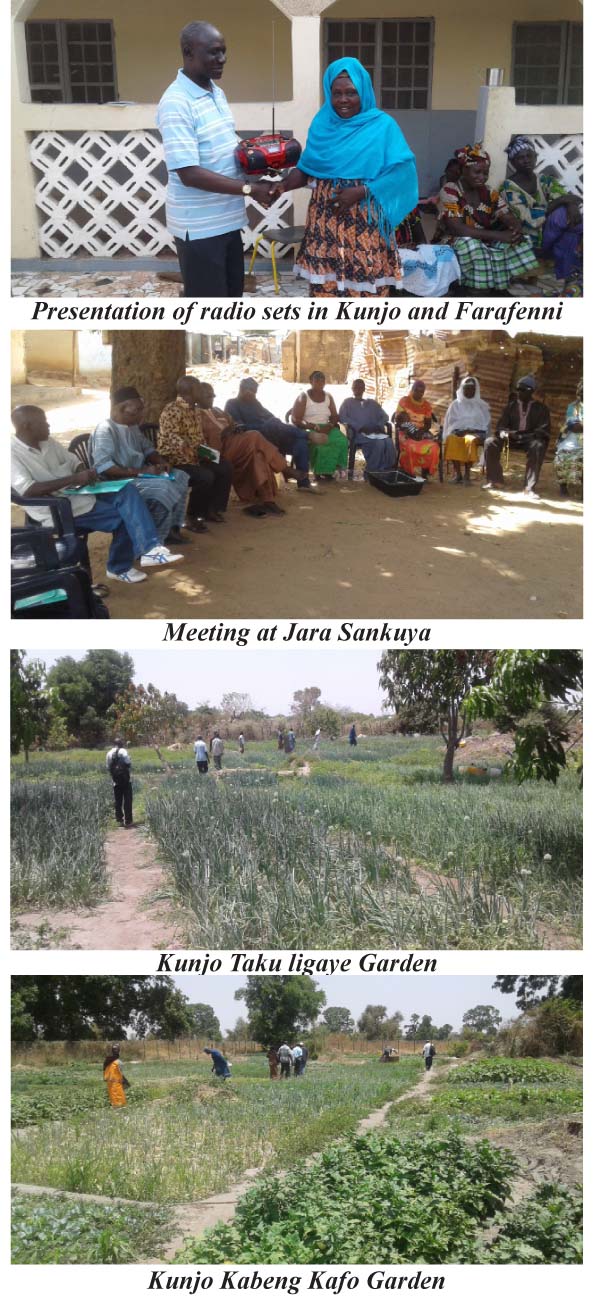 Officials of the Gambia Family Planning Association have lauded the efforts of women groups they supported with income generating facilities including horticultural implements and inputs. They made the commendation during their first quarterly assessment tour of micro-finance projects they funded under the Trans Gambia Corridor Bridge project.

The GFPA has been contracted by the National Road Authority and the African Development Bank to implement sensitization programs on road safety, the prevention of HIV/AIDS and other sexually transmitted inflections, as well as execute women empowerment schemes within the project implementation zone. In December 2016 the GFPA provided assortment of garden inputs and implements to "Takuligaye" and "Kanbeng-kafo" women groups in Kunjo village NBR. Kanbeng-kafo is currently cultivating 1800 beds of onion, tomatoe and cabbage and Takuligaye 1400 beds.
Farafenni Kanyelleng group and Kumdekai Theatre group in Sankuya LRR were also supported with soap making implements and inputs, groundnut and fish grinding machines and dozens of plastic chairs for hire as part of the women empowerment component of the project. The women groups thanked project officials for the support citing the benefits they've started accruing from their projects. They noted that the projects have improved their income generation and helps to promote unity and cooperation among them. However, the women gardeners complained of storage and marketing constrains.
During the monitoring and evaluation tour on 25th and 26th 2017, the officials presented new radio sets to five women groups.
After consultative meetings with women groups in Bereto and Kerr Ali Village in NBR and Misira in LRR, project officials are gearing up to support them with similar income generating facilities.
Speaking at the forums, the Executive Director of GFPA Yankuba Dibba expressed delight on the progress made by the beneficiary groups and urged them to strive harder for greater success. He said the support is a fulfillment of the women empowerment component of the Trans Gambia Corridor project with a view to enhance their general welfare. Mr Dibba further disclosed that 10 communities within the project implementation zone would be provided with radio sets to enable them follow sensitization programs on road safety, STI prevention, reproductive health and other issues pertinent to their socio-economic advancement to be aired on Farafenni Community Radio. A community development expert Mamanding Kuyateh urged the women groups to work hard to ensure the sustainability of their various projects. The GFPA Senior Program Officer Momodou Njie, road safety expert Lang K Konteh and the project coordinator Abdou Rufa Sanneh made similar comments. The GFPA Area Managers in NBR and LRR Momodou Lamin Ndure and Jayeh Jamanka, as well as the GFPA focal point in Farafenni Sainey Dibba urged the groups to remain united.
Read Other Articles In Article (Archive)