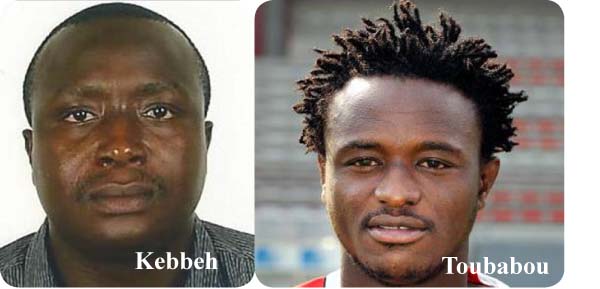 More flesh have been put to the bones as Gambia takes on Tanzania Saturdaywith the new Gambia Football Association (GFF) top brass meeting the national team players, for the first time yesterday.
New football president Mustapha Kebbeh accompanied by his top aides visited the team as they train at the Independence Stadium, and assured them that the whole nation is behind them to bring pride to the nation on Saturday.
"I am pleased to meet you to renew my confidence in you, as I know you can do it. Be assured that we shall be here for you, to provide the conducive environment and comfort for you to be able to play your role in this crusade, which is to kick the ball while we see to your welfare, and as we go to do this job we are in it together.
"The entire 1.5 million Gambians are putting their trust in you, and I know you can do it . We are here to check on you personally, and we shall expound on matters at a formal meeting on Friday,'' President Kebbeh told the players.
First Vice president Buba Star Janneh, a former Gambian international himself, added his voice by reminding the players that even though the importance of the match is paramount, they should go into it with a relaxed frame of mind and even enjoy the match themselves.
"We know you can do it, as you have done it before. The last few matches have not been desirable in terms of results, and we are sure you are equally prepared to reverse that trend,'' he noted.
Janneh urged the players to effectively communicate any issues they wish to bring to light by channeling it through their coach.
''We know that expectations are high and that comes with pressure, but please go in there and enjoy the match yourselves,'' Janneh concluded his psychological preparation of the boys.
The number three man in the GFF, Kebba K Touray, urged the players to take the match seriously, as the whole nation is behind them.
"We are a winning team as an executive, and we know you are also a winning football team. So together we can do it. We know you can do it.
"This is our starting, and we want to win. If you push us we will do what you want, and in turn we too will push you to do your very best, and surely we shall get there,'' he advised the players.
Coach Peter Bonu Johnson thanked the GFF top brass for taking a great interest in the welfare of the players.
The players nodded in approval of the encouraging words, and suggested the grass on the pitch to be further trimmed, an observation first made by Star Janneh, perhaps from experience. The request was instantly approved and work ordered accordingly.
Meanwhile, there will be a post match press conference this afternoon at the players' camp at Bambo Hotel.
Read Other Articles In Article (Archive)