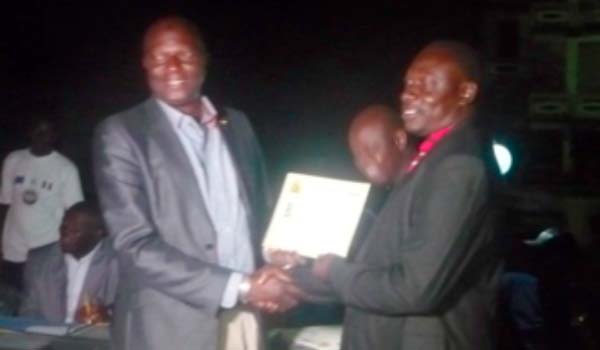 The Gambia Football Federation together with the Gambia Football Coaches Association on Saturday 27 February 2016 awarded certificates of CAF 'C' and 'B' Coaching Licence to coaches that participated in the previous coaching courses.
The programme was held at the Independence Stadium Friendship Hostel Garden.
Speaking at the ceremony, Pa Suwareh Faye, president of Gambia Football Coaches Association, described the day as historic in the annals of the association.
Mr Faye gave the history of the association and thanked its previous president, who he said had to go through some struggle in its effort at decentralising the profession across the country.
He also pointed out the association's achievements and constraints, calling on the coaches to be united.
Mr Faye also appealed for them to be given office space and a budget allocation from the Gambia Football Federation for his association to be able to effectively carry out its operations.
He said their wish is to see the country being blessed with increasing number of highly qualified CAF instructors on yearly basis.
Hon. Alagie Sillah, CAF Coach Instructor, in his remarks, said the GFCA has come a long way and has done well in overseeing the courses with good outcome.
Anything in life is about knowledge, he said, adding: "There is not shortcut to it."
Hon. Sillah urged coaches in the country to work hard and ensured they share the knowledge gained from the training with their colleagues who could not part take in the courses.
The impact of the course will not be immediately felt, he noted, but better performance could be realised over time in improvement in the domestic league.
Bakary Jammeh, representing GFF president, said: "One of the gaps in our football development is lack of qualified personnel, hence the need for capacity development.
The GFF has been working towards that direction since taking office, he added, saying having qualified personnel manning positions is a surest way to attaining sustainable development in sport.
Mr Jammeh highlighted the importance of coaches, saying it is important for GFF to linger not in getting an A Licence CAF Coach Instructor.
Deputising for the Minister of Youth and Sports (MoYS), Marcel Mendy, executive director of National Sports Council, thanked all MoYS partners.
He says coaches are important and crucial for the development of football, adding: We can never make headway without coaches."
He said they would not depend on foreign coaches for the development of the country's football. "Gambian coaches have now been given an opportunity to prove their worth being head coaches on the senior national team as well as the U17 and U-20 levels," he said.
Coaching is not an easy task, he reiterated, saying that when one is focused and believes in what he is doing he would be able to make it.
The vote of thanks was delivered by U-17 head coach Matarr Mboge, U-17 head coach.
Read Other Articles In Article (Archive)