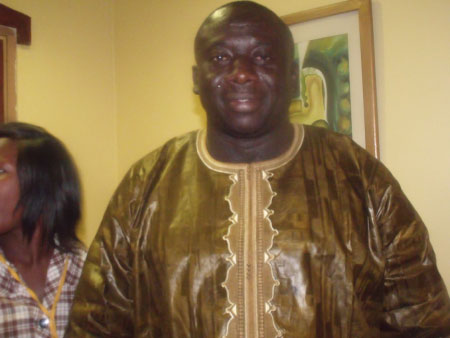 Barely two days after  the Scorpions 2-1 humiliating defeat by Algeria in Banjul, in the first leg of the African Cup of Nations preliminary rounds, the Ministry of Youth and Sports in Banjul has dissolved the entire executive committee of the Gambia Football Association, GFA.
The unprecedented move was announced by the minister of Youth and Sports, Alieu K Jammeh, at a press conference held at the Independence Stadium on Friday.
"We are gathered here today to share with you news that the Gambia Football Association is hereby dissolved," the new sports minister declared.
The move, according to Jammeh, was in response to the public outcry for the development of football in the country.
Meanwhile, ministry officials have said it was based on the recommendations forwarded to them by a task force on football, which was established to map out the way forward for Gambian football.
The taskforce was, among others, said to have "found the GFA headed by Seedy MB Kinteh wanting in its administration of football in the country over the years."
"It cannot be business as usual in this industry," Jammeh told journalists at the news conference, while thanking the executive committee members of the dissolved football association for their contribution to national football over the years.
"We are thinking on difference lines now with big ideas, and in a new era. We are asking them to excuse themselves," he said, before announcing that an interim committee will be announced soon to oversee the affairs of the FA until congress.
Minister Jammeh pointed out that, "there is need to re-organise, rebuild and work on strengthening the technical department of the national Scorpions, as well as review the constitution of the GFA to be in line with FIFA before organising congress for the FA."
The Youth and Sports minister also sent a strong warning to all national federations to desist from making associations their personal property.
"All national association must have a national character. We want all Gambians to benefit from sports," he stated.
He told journalists that the decision which was taken as a "collective responsibility" by the various heads of the ministry, and was done following consultations as widely as possible.
The national team being a national asset, the government no longer has confidence in the present FA, according to the minister.
Meanwhile, this paper has noticed the presence of security officers at the headquarters of the Gambia Football Association, over the weekend.
Read Other Articles In Article (Archive)