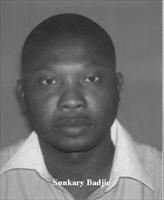 In a bid to contribute their quota and complement government's efforts in disaster reduction, one Uta Wacker, a German philanthropist last Friday handed over an amount of 350 Euros to the flood victims of the Western Region.
This donation was made possible through her friend, Madam Ellen Scholar Manneh, who facilitated the presentation of the largesse at the Office of Chairman of the Brikama Area Council.
Speaking at the presentation ceremony, Mr. Serign Modou Joof, the Secretary-General of the Western Region Disaster Management Committee underscored the significance of the National Disaster Management Act in 2008.
Joof also spoke of the subsequent formation of regional disaster management committees across the country.
He commended the donor for what he described as a timely and humanitarian gesture, noting that it would go a long way towards assisting the disaster victims.
According to Mr. Joof, about 355 families were assessed to have been affected by disaster within the region.
He added that more than 500 families are yet to be assessed by his committee.
He said many families are being temporary sheltered by relatives or located in schools, because of the flood, which he noted, had displaced many families.
For his part, Madam Ellen Scholar Manneh, who is the EC Child Fund, Water and Sanitation Project Officer described the donor as a committed philanthropist.
She urged the beneficiaries to put the money to good use. She hailed the efforts of the regional Disaster Management Committee.
Also, speaking at the presentation, Mr. Estate Cassell, the National Direction of Child Fund The Gambia, Mr. Estate Cassell, spoke of his delight with the efforts of Madam Wacker and Madam Manneh, in responding to the needs of the disaster victims.
In receiving the cheque, on behalf of the Regional Governor, Mr. Sunkary Badjie, the Chairman of the Brikama Area Council commended the philanthropist for their kind gesture. Mr. Badjie urged other NGOs, to emulate the efforts of Child fund.
He promised that the amount would be put to good use.
Read Other Articles In Article (Archive)