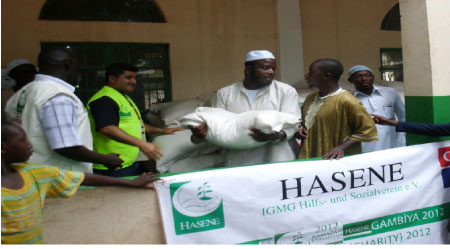 During the month of Ramadan many organisations and individuals do mobilize resources especially food stuff to support the poor and needy a virtue well called for by Islam.
In The Gambia, one such organization that has begun given such support to the needy is called IGMG, an international Islamic organisation headquartered in Germany.
IGMG in collaboration with their local Gambian charity known as Cemiyetul Hayr Relief Organisation, on Saturday began their 2012 Ramadan programme in the country.
At a ceremony held at Tallinding Islamic Institute in the Kanifing Municipality, the charity commenced distributing 500 bags of rice of 25kg, 500 bags of sugar of 10kg, and 500 gallons of cooking oil of 5liter.
Speaking at the ceremony, Musa Jallow, Admin and Finance Coordinator of Cemiyetul Hayr Relief Organisation said his charity has worked with IGMG for some years now to support the poor and needy in The Gambia.
According to him, apart from the Ramadan programme, they are currently sponsoring one hundred orphans in the country and also dig wells for communities.
"We also provide Qurbani (tobaski meat) to the poor and needy across The Gambia," Mr Jallow said.
Commenting on the German partner-IGMG, Mr Jallow said  the organization operates in 19 countries around the world to support those in need and reduce human suffering.
Sheikh Cherno Darbo, deputizing the Gambia Islamic Union and Gambia Supreme Islamic Council, thanked the donors for their intervention.
Mr Darboe hailed Cemiyetul Hayr Relief Organisation and IGMG for their timely and important support adding they are aware of their numerous interventions over the years.
Mr Metin Cagli, a representative of IGMG who travel to the country to witness the distribution, said his organization hasdispatched 200 officials across the globe to help coordinate their activities in over 18 countries.
He said the organisation is also involved in building mosques, wells, donation of food items to the needy, etc.
"It is the goal of the IGMG to improve the living circumstances of Muslims as well as to provide for their fundamental rights," he said.
He applauded their local partner Cemiyetul Hayr Relief Organisation for complementing their efforts.
Abubaccar Camara, a beneficiary, thanked IGMG and Cemiyetul Hayr for the support rendered to them which he said would help them a lot in this difficult moment.
Meanwhile, the beneficiaries included individuals and institutions such as Al-Birri Foundation, Tallinding Women Association, Gambia Islamic Union, and Supreme Islamic Council.
Similar distributions were also made in other parts of the country by Cemiyetul Hayr Relief Organisation.
Read Other Articles In Article (Archive)