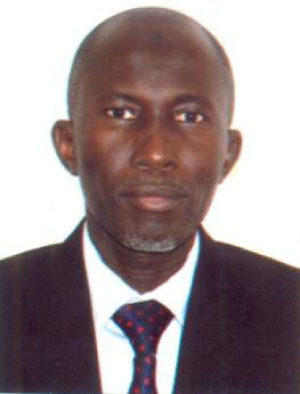 The Monetary Policy Committee of the Central Bank of The Gambia has projected real GDP growth at 7.5 percent in 2014 predicated on robust expansion of agriculture and services particularly tourism; this as the dalasi significantly depreciates against major international currencies.
In the quarterly Monetary Policy Committee report released to the press on Friday, the CBG Governor Amadou Colley said although the dalasi was broadly stable in the first half of 2013, it has depreciated significantly in the second half of the year.
''As at end-December 2013, the Dalasi depreciated against the US Dollar by 14.8 percent, Euro (21.0 percent) and Pound Sterling (14.7 percent) from December 2012,'' he said, adding that in nominal effective exchange rate terms, the Dalasi depreciated by 15.1 percent compared to 13.5 percent and 7.3 percent in 2012 and 2011 respectively.
The depreciation of the dalasi, Governor Colley went on, was partly the result of reduced foreign exchange receipts, coupled with strong demand owing in part to the high level of liquidity in the economy.
Inflation
Commenting on inflation, Governor Colley stated that consumer price inflation, measured by the National Consumer Price Index (NCPI), increased to 5.6 percent in December 2013 compared to the 4.9 percent recorded in 2012.
According to him, food prices, which remained the main driver of headline inflation, rose to a high of 7.3 in October 2013 before easing somewhat to 6.6 percent in December 2013. ''Non-food prices, broadly stable and non-volatile in 2010, 2011 and in the first half of 2013 averaged less than 2.0 percent, accelerated to a high of 4.6 percent in June 2013 before decelerating to 3.7 percent in 2013,'' he stated.
Inflation outlook
On the GDP projection for 2014, CBG Governor further stated that this indicates that the Gambian economy is gradually growing close to potential. Inflation, he added, is forecast to moderate to within the target of 5.0 percent by end-December 2014 premised on prudent implementation of monetary and fiscal policies.
Noting that the outlook for inflation is subject to several upside risks emanating both from the external environment and the domestic economy, Colley said the most important risks are higher-than-expected oil prices and fiscal and exchange rate pressures.
Decision
Commenting on the decision taken by the Monetary Policy Committee, Governor Colley said it is against this backdrop that the MPC judged the current policy stance to be appropriate and therefore has decided to keep the policy rate unchanged at 20.0 percent.
''Nonetheless, the MPC recognizes that circumstances could change and is desirous to respond promptly to keep the prices under control and ensure that inflation expectations are well anchored,'' he stated.
Read Other Articles In Article (Archive)