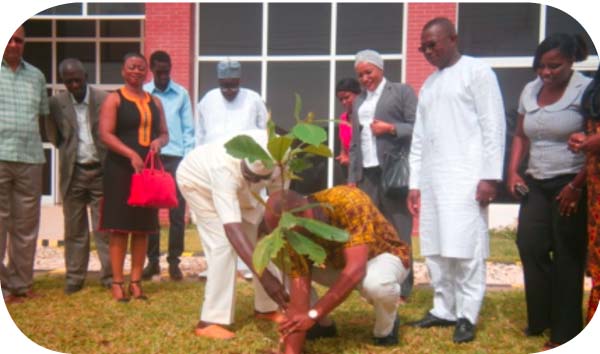 The Gambia Chamber of Commerce and Industry (GCCI) yesterday conveyed a tree-planting initiative in honor of the institution's former presidents for their invaluable contributions to the growth of GCCI during their various tenures in the industry.
The planting exercise, held at the front garden space of the institution's premises, brought together GCCI's former presidents, board members, staff, business executives and other dignitaries from various sectors in the country.
A tree was planted in honour of each of the former presidents.
The occasion also witnessed the launching of the GCCI's 50-year commemoration slated for 2017.
The launching brought together former presidents and board members to discuss their preparatory plan and the way forward for the GCCI's 50-year celebration since its establishment.
GCCI at 50 plans to celebrate the achievements and milestones of the industry which also looks at constraints faced along the way.
Speaking to reporters, the president of the GCCI, Muhammed Jagana, said they decided to honour the former presidents through planting tree for each of them.
Mr Jagana commended the former presidents and CEOs for their immense contributions towards the success of the institution.
Also speaking, former GCCI president Alieu Mboge, who served as president on various occasions, said they worked closely with government for economic improvement.
In his appreciation of the honour, he said the chamber is doing what it could for the nation, hailing their good relationship with the government.
He further encouraged GCCI's bilateral relationship with the government, while calling on the private and public sectors to work towards achieving the same goal for the economic development of the nation.
He added that it is the responsibility of both sectors to work together to achieve the common goal of developing the nation.
Regarding the Ebola outbreak in some parts of West Africa, Bai Matarr Drammeh, a former president of GCCI, urged investors and business people around the work to come and invest in The Gambia since the country is not affected by the epidemic.
"My personal wish is that The Gambia becomes the headquarters for many investors of Africa," he said, adding that it is safe for people to come to Banjul and do business, as the country also has stability, which attracts many investors.
The former presidents of the Chamber are Momodou B. Njie 1980-1985; Alieu Mboge 1985-1993; Housainou M. M. Njie 1993-1995; Charrbel Elhajj 1995-1996, Bai Ndongo Faal 1996-2002; Abdoulie M. Touray 2002-2006, and Bai Matarr Drammeh 2006-2012.
Read Other Articles In Article (Archive)