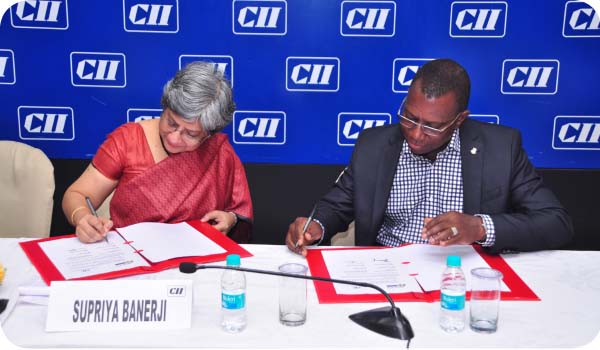 The Gambia Chamber of Commerce and Industry (GCCI) has signed a veritable and lucrative Memorandum of Understanding (MoU) with the Confederation of Indian Industries (CII) to collaborate and support each other.
The MoU, signed in India on 18 March after the closing ceremony of the 10th India-Africa Conclave on the theme: 'Building Partnerships' (held 9 -11 March 2014) and a six-day Industrial Services Training Programme (ISTP) for African Chambers of Commerce senior representatives, covers a wide range of business and development issues.
Considering the important role of trade, industry and services in the economic development of their respective countries and desirous of intensifying economic relations between the two countries, the CII and the GCCI agreed to enhance economic relations and propose to their respective governments, measures and mechanisms to promote exports on the basis of mutual interests to avoid any imbalances which may affect the relationships between The Gambia and India.
According to the MoU, the two private sector apex bodies also agreed to continue to develop exchange of economic information between the two institutions; to organise trade missions and to cooperate through the organisation of conferences, symposia and other forms of trade events for the promotion of trade, industry and services of both countries.
They as well agreed to participate and cause traders to participate in trade fairs and exhibitions, encourage reciprocal visits of business people and professionals and help visitors and business people in both directions, as well as obtain the most appropriate business contracts.
The two institutions also agreed to establish a regular consultation programme between officials of both institutions on trade, industrial issues and services.
"As part of the implementation of this Agreement, the two institutions shall undertake to provide mutual institutional support in the methods of which shall be mutually agreed," the MoU states further.
"Any dispute arising from the implementation of this Memorandum of Understanding between the consular institutions and /or economic operations will be settled amicably."
It adds: "Each Party may submit to the other an amendment request to rework the terms and contents of this Memorandum of Understanding.
"This exclusive agreement between the two parties shall come into force with immediate effect and will be valid for a period of five years, and renewed by mutual consent."
In line with the MoU, the Confederation of Indian Industries has been offered a space for its office to be located in West Africa at the Chamber of Commerce Office in Bijilo, said GCCI Chief Executive Officer Alieu Secka, who signed the MoU in New Delhi on behalf of the Chamber.
The CII, he added, has also been invited to participate at the upcoming award dinner to be held by the GCCI in May this year.
Indian-Africa Conclave
According to CII, the India-Africa Partnership is a true benchmark for meaningful South-South Cooperation.
Over the years, the two regions with a combined population of over 2 billion people have demonstrated to the world how developing economies can complement each other's strengths and become global economic powerhouses.
As India boarded a high powered trajectory at the turn of the millennium, the country clearly recognised the critical need to deepen its economic engagements with African countries for mutual access to markets and resources.
In this period, Africa also entered a phase of unprecedented economic resurgence, with some of African economies figuring among the fastest growing economies in the world. This growth momentum also galvanized India and Africa to jointly architect cooperation endeavours with other developing economies round the world.
The CII report on the conclave also states: "In the coming years, India and Africa bilateral relations are expected to go through a major makeover with renewed focus on bilateral trade diversification and cooperation in areas such as manufacturing competitiveness, innovation & R&D, physical infrastructure development, food and energy security, environmental safeguards, and human capital formation."
The programme is funded by the Indian Ministry of Trade endorsed by Ministry of External Affairs.
Annually since 2005, the CII has been organizing with the Government of India, supported by the EXIM Bank of India - a platform for Indian businesses to come together with Africa to showcase their products and services. This year's chosen theme was: Developing Initiatives, Enhancing Relations.
At the very outset of the bilateral cooperation endeavour, Indian Government and Industry maintained keen stakeholder interest in Africa's prosperity, evidenced by the concessional lines of credit extended by Indian government to different African counties, as well as various capacity building initiatives undertaken by leading Indian corporates in Africa.
"Indian Government and Industry have also been instrumental in executing key infrastructure projects in Africa, such as Pan-African eNetwork (PAN) project, new National Assembly complex in Banjul, Presidential Palace in Ghana and the Ghana-India Kofi Anna Centre of Excellence in IT etc," the report notes.
Likewise, Indian companies "have spearheaded major watershed development projects" and construction of roads, railways, ports, airports and energy, power and engineering projects across the length and breadth of Africa.
"Moreover, since 2000 Indian agencies and corporates have contributed in a big way to the manufacturing growth of many African economies through direct investments and effective knowledge and skill transfers," the report adds. "Today as both regions aim to rapidly move up the global value chains, there is a string fled need for governments and industry on both sides to step up bilateral collaborations in R&D and innovation, healthcare and education, advanced technologies, manufacturing excellence, SME development, alternative energy development, water conservation, green growth and food self-sufficiency, among key areas."
India Africa bilateral cooperation is supported by steady expansion of bilateral trade volumes. India- Africa trade has grown from $1 billion in 2001 to $70 billion in 2012/13. The current bilateral trade flows suggest that the trade target of $90 billion by 2015 will be easily surpassed.
India's investment in Africa has also grown at an appreciable pace. "Total Indian investments in the region are estimated to be over $50 billion now," the report states.
It added that the CII has played a catalytic role in strengthening the India-Africa ties.
CII works to strengthen 'Brand India' in Africa by building long-term, sustainable partnerships between the two regions.
The CIIAfrica Committee drives engagements with Africa and have both large and small enterprises as members - develops strategies to improve bilateral economic, industrial and trade relations, and addresses areas of concerns.
The GCCI has benefitted severally from the programme over the years. "We are grateful to the Government of India and the CII," CEO Secka said.
Read Other Articles In Article (Archive)