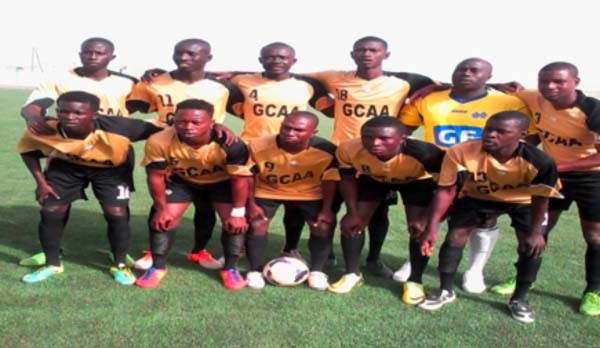 The Gambia Civil Aviation Authority, GCAA, football club on Friday lost 2-0 to Eline Fisheries Jaal FC of Juwal Senegal at the opening of the 2015 inter-departmental championship played at the Ma Wad Stadium in St. Louis.
GCAA FC conceded the first goal in the 7th minute of the game through PapeTamba. Alieu Badara Sanyang scored the second goal in the second half for Eline Fisheries Jaal FC.
The inter-departmental championship competitors include six Senegalese departmental teams and the Gambia NISA team.
The GCAA failed to capitalize on numerous chances. It is for the first time appearing in the sub-regional championship.
The team left Banjul for the 2015 championship with the zeal to secure the fourth trophy for the Gambia, which has been champions for three years over the past six years.
The NISA trophy was first captured in 2010 by the Gambia Immigration Department, followed by the Gambia Armed Forces in Diourbel, Senegal, in 2012 and in 2013 when it was held in The Gambia.
Speaking with reporters, GCAA coach Dawda Jawara described the defeat as "shocking", adding that the short schedule for their participation contributed to their defeat.
"It was prompt, and I can say that our guys have not been training together since the previous inter-departmental competition," he said.
However, he admitted that his team could have utilized the few chances it had to progress to the next level.
"I am so shocked that the GCAA could not go back home with the trophy, considering our previous victories achieved by the GAF and GID," he lamented.
GCAA captain Pierre Camara admitted that they were not well prepared, because of the short notice they received.
He commended the central referee, but complained that the assistant referees contributed to their losing the game.
Read Other Articles In Article (Archive)