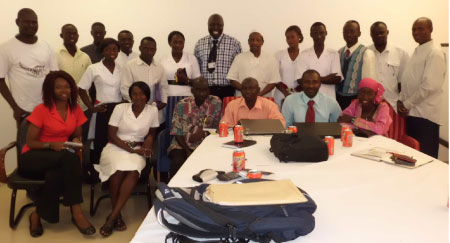 The Gambia Nurses and Midwives Association (GaNMA) yesterday Wednesday 15th May 2013 held a press conference, at the Serrekunda General Hospital in Kanifing on issues, such as the role of midwives in attaining the MDGs 4, 5, and 6, i.e. the role of midwives in providing quality health care and the relationship between midwives and the public.
Speaking at the press conference, Juma Jollow, the Vice-President of the GaNMA, who spoke on the role of nurses and midwives in attaining the MDGs 4, 5 and 6, said it is about 13 years ago when the MDGs were talked about at the UN, adding that as Gambians they would be proud to reach the MDGs targets, particularly those related to health.
Mr. Jallow stated that nurses and midwives form most of the bulwark of the Ministry of Health and Social Welfare, and that they play a critical role in providing health care services at all levels. He noted that they are trying to encourage their members to stay in the country and work for the nation at all cost.
He said they could not have done it without the support of the government and then called on the private sector to partner with the government in investing in health, as they cannot do it all alone.
Ousman Camara, the Secretary-General of the association who is also the Principal at School for Enrolled Community Health Nurses and Midwives at Mansakonko, spoke on the role of nurses and midwives in providing quality health care services.
Mr. Camara also spoke about their challenges and then highlighted their achievements.
Baba Njie, CEO of Serrekunda General Hospital, talked about the relationship between nurses/ midwives and the public.
According to him, their role cannot be measured, noting that they should be at the forefront in providing quality health care.
While stating that there is a zeal for nurses to deliver, he said, the conducive environment has to be created for them to live up to expectations.
He stressed that the opportunities available at the urban areas for nurses should also be made available to nurses at the rural areas.
Njie stated that "It was in 1963 that The Gambia Nurses Association (GNA) was established and in 1990 the Gambia Midwives' Association (GMA) was also established. There also existed the Association of Community Health Nurses and the State Enrolled Nurse Association. These associations existed side by side for years with little or no interaction between them.
"This has in a way resulted into division and friction among the different cadres of nurses and
Midwives in the country which also hindered progress in the nursing and midwifery profession and practices."
The GaNMA is an independent, non-partisan and non-governmental Nurses and Midwives'
Association and is an Association of Nurses and Midwives, trained or practicing and/or living in The Gambia. This is in compliance with the ICN and the International Confederation of Midwives (ICM), as well as the Commonwealth Federation of Nurses (CNF).
Read Other Articles In Article (Archive)