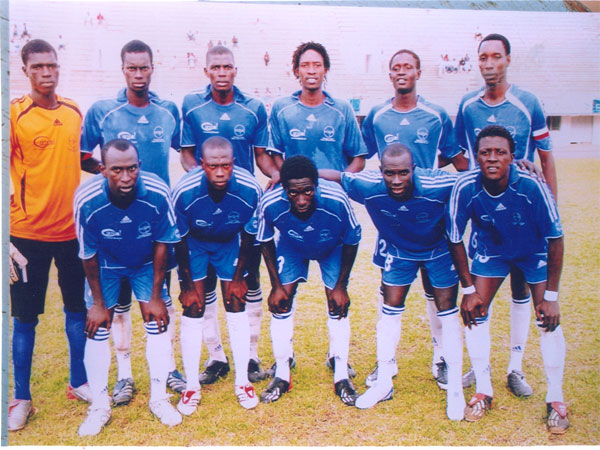 Gamtel and Real De Banjul will once again renew their intense rivalry when they come face to face with each other in the FA cup semi final, following a stalemate between the two giants on Wednesday.
The two sides met in the crucial FA cup semis, but a thrilling encounter which failed to produce a winner ended in a dramatic 5-5 penalty shoot-out before the game was called off amidst darkness, following a pulsating 1-1 draw in regulation period at the Banjul KG5 Mini Stadium.
The game was rescheduled for this Saturday at the Serrekunda East Mini Stadium.
Mbemba Colley gave Real De Banjul FC the lead in the 41st minute of the game from a sensible finish, giving his side a 1-nil lead at half time.
Alagie Amadou Ngum leveled the score line for Gamtel FC in the 69th minute of the game from the penalty spot, when midfielder Alagie Bah brought down Muhammed Jammeh inside Real De Banjul FC's eighteen yard-box barely two minutes after he was substituted to replace Alagie Ceesay.
Assan Ceesay missed a brilliant header for Gamtel FC in the 76th minute of the game, when goalkeeper Alagie Modou Jobe went for the ball to grab it, and missed. The game ended 1-1 resulting in a post match penalty shoot out, which ended 5-5 and, thus the game being rescheduled for Saturday due to darkness of the pitch.
Speaking to reporters shortly after the game, Mustapha Manneh, head coach of Gamtel FC, said they would do all it takes as FA Cup champions to defend their title, adding that they would go back and prepare well for the rescheduled match.
He added that having chances and scoring goals are two different things, noting that they created many chances, but could not capitalize on them, only capitalizing on the penalty they had.
Asked whether he was disappointed with the goal Musa Camara conceded, from a goalkeeper of his quality, he said, "I'm not disappointed because he does safe a lot of goals for us, and if he makes a mistake we will just go back and rectify it".
When also asked about the absence of Dodou Suso from the squad, he said Dodou travelled to Dakar and had not train with the team for four days, adding that was why he was left out from the squad against Real De Banjul FC.
"We feel that it was better for us to fill in another player in his position because we have a 30-man squad, and it does not matter, when we have to defend our title, whether he is their or not".
When told that people would have expected that they would just come and beat Real De Banjul FC because of their exposure in the WAFU club competition, he said, he was "not actually disappointed drawing the game against Real De Banjul FC because they finished in second position in the league, whereas we finished in fifth position", adding that "comparing our performance they should be disappointed and not us".  
Alagie Sarr, head coach of Real De Banjul FC, began by congratulating Gamtel FC for reaching the semi final of the WAFU club competition, which he said "we are all proud of because Gamtel FC is a Gambian team".
"We played very well and controlled the game", he said, adding that, Gamtel FC came into the game in the last 70 minutes, when they fought back to level the score line through a penalty.
"Match fitness was part of our problems today, because the FA Cup was suspended due to the Gambia's engagement in test games and also the African cup of nations qualifiers", he stated, adding that they had to stop their training because of financial problems, as they cannot be training every day without competing.
"The boys tried very well, but were tired during the 70 minutes and is only because of the penalty that Gamtel FC scored", he noted, adding that, they would prepare very well before Saturday by organizing a test game with a nawetan team to rectify their mistakes.
He further stated that Gamtel FC are a good team, adding that they are a very strong team, but that his side will win come Saturday.
"We work on set-pieces in every training, but it is unfortunate that when it comes to the game players cannot score them", he added, noting that this is not only a problem of Real De Banjul FC players, but all players in this country, and that it is due to lack of concentration. 
Read Other Articles In Article (Archive)