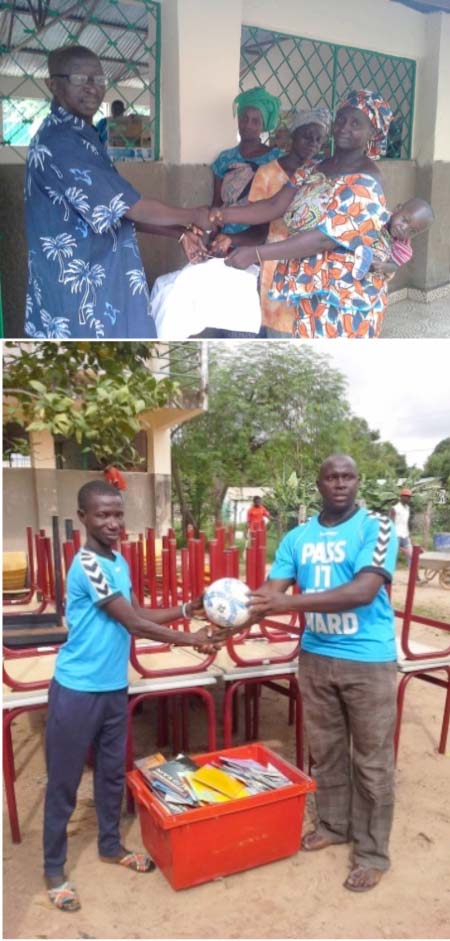 Rural Poor Association Gambia (GAMRUPA) recently donated household, school materials, furniture, medical equipment and second hand clothes to 17 beneficiaries within and outside of The Gambia.
The presentation was recently made at the Siffoe Lower Basic School in the Kombo South District of the West Coast Region.
A 40-foot container was received on 1 September 2015 from their partner organisation, GAMRUPA Europe, in partnership with Go For Africa.
The materials included school furniture, educational materials, health materials, household goods, scout uniforms, and used clothes, among others.
Beneficiaries included Sifoe Lower Basic School, Sifoe Upper Basic and Senior Secondary school, Hope Centre Nursery School, St Joseph Nursery and Lower Basic School, Nyoffelleh Lower Basic School, Kassa Kunda Lower Basic School, Bakary Sambouya Lower Basic School, Giboro Basic Cycle School, young people Without Borders Education Centre, Copi of Sindian in Cassamance- republic of Senegal, Sifoe Health Centre, Gunjur Health Centre, Nyoffelleh Health Centre, Gunjur Scout Band, Sifoe Scout Band and all the kabilos within Sifoe.
Mr Kanteh thanked the director of Go For Afrika, Jan Huizinga, and the chairperson for Gamrupa Europe, Ellen Meulenveld.
He further revealed that the total cost of the items was more than D500, 000 and that this was not the first of its kind.
"GAMRUPA, among other activities, is into bringing containers into The Gambia which greatly benefits the Gambians, especially the community of Sifoe and its surrounding villages," Mr Kanteh said.
The container items may be of less value to the donors or senders, but is of great value to the receivers who are also the direct consumers of those items, he added.
Mr Sanneh, vice principal of Sifoe Upper Basic and Senior Secondary school, received on behalf of his school. Other recipients were headmaster Camara on behalf of Kassa kunda, Master Omar Sanneh on behalf of Giboro, nurses in charge of the mentioned health centres and Fatou Sambou and Sohna Sawo on behalf of the Kabilos of Sifoe.
All beneficiaries thanked the donors for their usual support, and promised to make the best use of the items. 
Read Other Articles In Article (Archive)