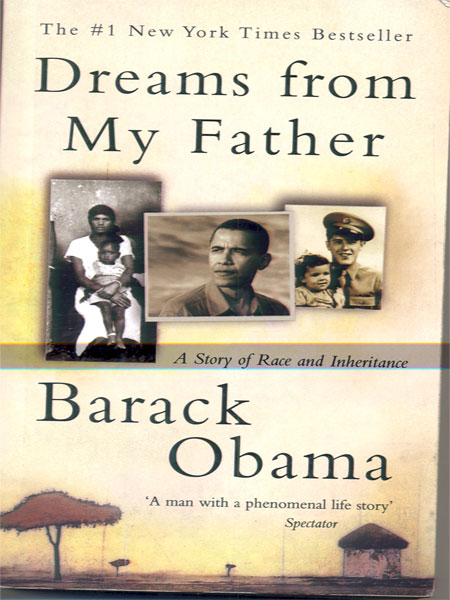 Publishers: CanongateISBN: 978 1 84767 091 5,Paperback; 442 pages
Barack Obama is an exciting writer, spicing his smooth and engaging prose with colourful details that give it punch and pace. In this engrossing story of his life, Barack retraces his steps to his ancestral home in Alego, Kenya, where he reunited with members of his paternal family and rediscovered himself.
His father, Barack Obama Snr., was 23 years old when he arrived in the United States in 1959 to pursue a degree course at the University of Hawaii. He was the first African student at the university. He excelled and was given another scholarship to study for his doctorate degree at Harvard. On completing his studies, he returned to Kenya where he held various senior government positions. But Dr Obama was too radical for his own good. As a result, he fell out of favour with the Kenyatta government, which made life very difficult for him. Without a job, Dr Obama had to rely on the goodwill of friends and relatives to eke out a miserable existence.
Before leaving for the States, he had been expelled from school due to gross misconduct. And he had to take a correspondence course for the school certificate. Through the help of some visiting Americans, he was able to get a scholarship to study in the States. When he met Ann, the mother of Barack Obama Jnr., at the University of Hawaii, he had already had two children. And he was to have some more with two other different women.
When he walked out on the two-year-old Barack Obama Jnr., Ann took it in good faith and relied on her parents to raise the boy. Later, she fell in love with and married Lolo, an Indonesian student at the university. The family eventually left for Indonesia, where Ann worked at the American embassy. At 4 o'clock in the morning, she would wake up Barack to teach him English. When Barack complained, she said: "Waking up at four every day isn't a picnic for me either." But it from Lolo that Barack learnt how to be a man. It was Lolo who taught him how to do press-ups every day and to box. "Your mother has a soft heart. That's a good thing in a woman. But you will be a man someday, and a man needs to have more sense," he told Barack one day. He added: "Men take advantage of weakness in other men. They're just like countries in that way. The strong man takes the weak man's land. He makes the weak man work in his field. If the weak man's woman is pretty, the strong man will take her.Better to be strong. If you can't be strong, be clever and make peace with someone who's strong. But always better to be strong yourself. Always." (p.41)
In the wake of her divorce with Lolo, Ann returned with Barack and Maya, Barack's younger sister, to Hawaii, where she studied for her a Master's degree in anthropology. It was about this time, Barack's father visited them and spent some time with the family. He even gave a talk to Barack's class. His father's oratory so captivated the class that his classmates who had been scorning him came to respect him and sought his friendship.
After completing his high school, he went to college and then worked as a financial writer before finding his dream job as an organiser in poor communities in the south side of Chicago. It was during this time, he met the Reverend Jeremiah Wright, who is to be his spiritual guide right up until now. Like his father, he attended Harvard, where he read law.
Dreams from My Father is a moving story of one man's quest to gain a better understanding of the world and play his part to make it a better place for everyone. It offers an insight into the circumstances that have shaped America's probable first black president.
Barack Obama wrote Dreams from My Father after he was elected as the first black president of the Harvard Law Review.
It is highly recommended by The Point.
It is available at TIMBOOKTOO.
Read Other Articles In Article (Archive)