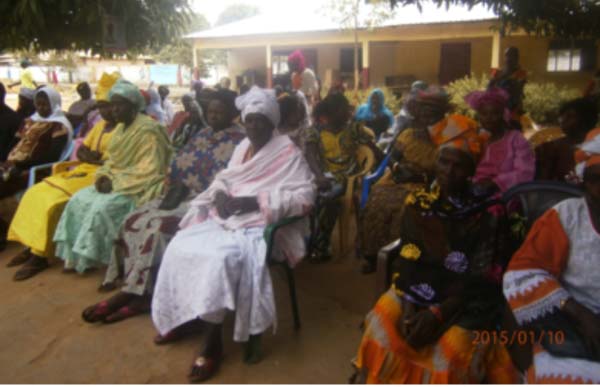 From a health-based to rights-based approach in the fight against Female Genital Mutilation (FGM), Gamcotrap Saturday engaged women's groups, community-based facilitators, teachers, youths, and traditional communicators in Kuloro village in a dialogue to fight FGM.
The activity was funded Save the Children International.
Speaking at the programme, Dr. Isatou Touray, Executive Director of GAMCOTRAP, said they are there for the rights of women and girls in complementing the government's efforts.
They are talking about issues relating to culture, which has placed many things on women that are not done, she said, adding that God respects women a lot and gave them their rights.
It is the men that have the religious knowledge, but knowledge does not belong to men or women alone, and anyone who seeks knowledge gets it, she continued.
When they see a good cultural practice relating to religion, they strengthen it, Dr. Touray went on, adding that both men and women are contributing their quota to national development.
If they give their girl-children too much domestic work, they would not perform well in school, and the girl-child's education is very important.
She said FGM is older than religion itself, and that being the case FGM is not a religious practice.
Gamcotrap's senior programme coordinator, Mary Small, said the struggle to end FGM and other harmful traditional practices started 30 years back.
She said they started from Basse in URR and came down to NBR.
When it comes to FGM, some are saying it is religious practice while others are saying it is a traditional practice.
Ms Small said it was important o make sure that at the end of the dialogue, the women would go home with one thought, which is to end FGM.
In her presentation on culture and harmful traditional practices, Amie Bojang Sissoho of Gamcotrap, said culture is what they met people doing.
Culture could be changed by the same people who made it, she continued, adding that when the women or mothers were taking their children for circumcision, they mislead them by telling them that they are taking them to go and eat the food they are so much in love with.
They have not come to throw away the culture of their people, because there are good cultural practices that they are strengthening, she went on.
She asked how many of them wakes up her child in the morning, and asks him or her to pray and then go and greet everyone in the house; which the participants agreed is very rare nowadays.
She said they are here to empower women, and not to destroy the culture.
Fatou Touray of Gamcotrap, presenting a paper on children and their rights, asked the participants to let their children go to school and let them reduce the domestic work on them, so that they would be able to perform well in school.
She said they should have equally trained their young boys how to do domestic chores, so that they could use it to better their life.
They should break the culture of silence, when it comes to rape, especially the one that happens in the homes, she went on.
Ms Touray added that should discipline the children, but should not do it in a way that would violate their rights. 
Read Other Articles In Article (Archive)