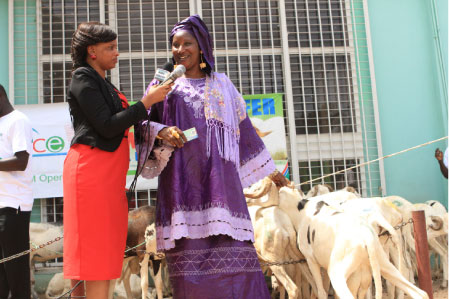 Gamcel, the national GSM operator, yesterday presented Tobaski rams to lucky winners at a colourful ceremony held at the company's head office in Kanifing. 
Speaking at the ceremony, Ma Nyima Cham-Njie, Manager Marketing and Communication at Gamcel, said they have been doing this for the past five years.
She stated that with Gamcel everyone is a winner, noting that just having a Gamcel SIM card can make one become a winner, and also contributing to national development.
Mrs Cham-Njie also remarked that Gamcel is a national company, and that every Gambian should be proud of having a Gamcel SIM card.
She noted that even though they are mainly here for business, from the profits the company is making they are able to touch the lives of many people.
She said in Agriculture they have given powertillers to farmers so that they can produce for themselves and their families, and also have some produce to sell and get a little bit of revenue and feed the Gambian people.
In education, she said, if somebody educates you, your future is already planned, noting that the company has given a lot to Gambians in that regard.
"We have sent a lot of Gambians to Mecca, and our contribution in other areas such as sports is immense," she said.
"We have also done a lot in the health sector, and every sector we have touched is for people to benefit as we endavour to add value to the lives of our customers," she further remarked.
Mrs Njie hailed Gamcel customers for being part of their success, due to their loyalty to the company.
Awa Sambou-Jobarteh, Senior Sales Manager at Gamcel, said their customers have patronized them to the extent that they have realized that the customers are here for them.
Lamin Fofana of Gamcel said this was not new, and that they are proud to be a national GSM operator and serving their people. According to him, at Gamcel they set the pace and others follow.
Read Other Articles In Article (Archive)