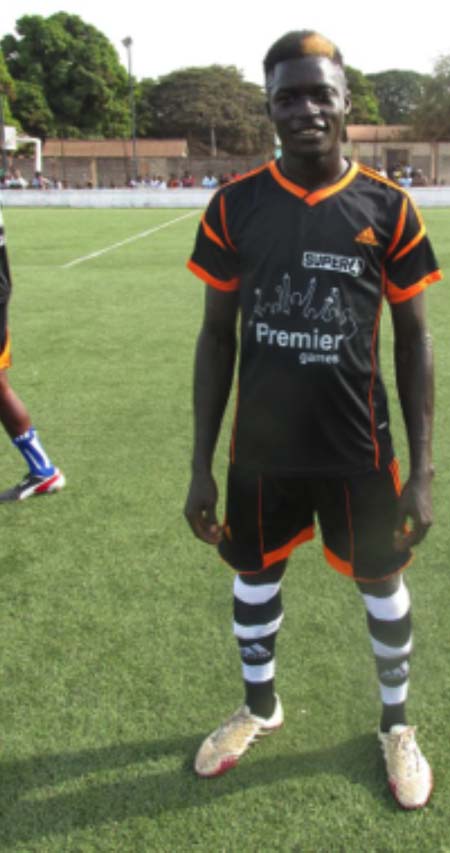 The national GSM operator Gamcel FC will face Santos-based outfit Late Dembo FC in the2014-2015 Solid Real Estate Agency-sponsored Gunjur league title on Saturday 10 January 2015, at the Gunjur Nyamina football field at 4.30 pm.
The long-awaited league finals game is described by many football enthusiasts in Gunjur and environs as the clash of the giants.
The cellular giants made a slow start to the Gunjur Nawettan after their 1-1 draw with the defending league and Super Cup champions, Steve Biko FC, in their opening group game.
The cellular giant thumped whipping boys Dabani Electrical Enterprise FC 2-0 in their second group game, before their goalless draw with Kundembo FC in their final group game to finished second spot in group A.
The national GSM operator beat Commit FC on penalties, after a goalless draw in regulation time in the quarter-finals to advance to the semi-finals.
Gamcel booked their ticket to the league finals following their penalties shootout win over World Eleven FC, after a goalless draw in regulation time in the semi-finals.
They will be hoping for a win against the Santos-based outfit to clinch the trophy after failing to land silver ware last season.
Gamcel made their debut in the Gunjur nawettan in 2003 and won their first trophy in 2004, after beating mighty Hawks FC 1-0 in the league finals played at the Gunjur Upper Basic School football field. Bekai Janneh aka Babayaro's long-range strike inspired the cellular giants to their first-ever silver ware, just two years old in the Gunjur summer football championship.
Late Dembo FC made a poor start to the Gunjur nawettan after their 1-0 defeat to Commit FC in their opening group B game, before beating Kajabang FC and embattled Dabani Electrical Enterprise FC to finished second place in group B with 6 points in three outings.
Late Dembo FC thumped the reigning league and Super Cup champions Steve Biko FC 2-0 in the quarter-finals, with goals from Ousainou Janneh alias Alves and Simon Bass aka Super Chanka, who fired home the opener after the interval, before Muhammed Janneh sealed the victory to send Late Dembo FC to the semi-finals.
The Santos-based outfit beat Solifo Investment FC 1-0 in the semi-finals to sail to the finals for the first time in their history, since making their debut in the Gunjur nawettan in the 1999 season, when the team was called City Rockers FC, and will be fighting for a win against Gamcel on Saturday to grab their first league title.
Read Other Articles In Article (Archive)