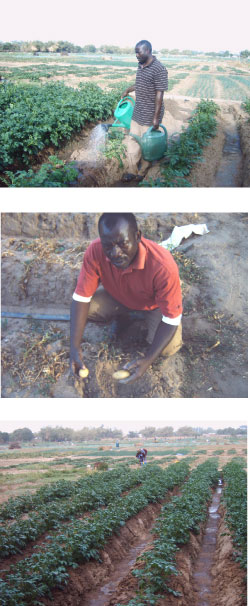 While The Gambia braces up for some tough days ahead due to failure in the latest farming season, the country's soil has offered new opportunities in the production of highly needed crops such as Irish potato.
In early March, the Government of The Gambia through the office of the Minister of Agriculture declared 2011 – 2012 farming season a failure resulting from severe crop failure and a corresponding soaring price of food prices.
"The post-harvest assessment of the 2011 farming season, characterised by below normal and poorly distributed rainfall, indicated a reduction in total crop production of more than 70%," a government press release stated.
In this situation of climatic adversity and looming high food prices, a Sierra Leonean youth residing now in The Gambia has done wonders by using the Lamin Women Horticultural Garden Centre, commonly known as Borehole, to produce the highly imported crop of Irish potato, and other market crops such as onions, carrots, cucumbers and sweet potatoes.
The unique thing about Thomas's farming productivity is the production of Irish potatoes in a part of the country that has hardly experienced such cultivation, making him the second person after M.A. Kharafi Farm, a farming merchant in Kafuta, to embark on production of the crop in The Gambia.
"We have various crops being cultivated here such as onions, cabbage, sweet potatoes, sweet pepper, cucumbers, and other crops," Thomas explained.
"And right now I have introduced a new crop in the garden, which is Irish potato. This was never cultivated here. I have made a try and it has come out very well; the fruit of my labour went beyond my expectation, because I tried it thinking it would not do well, but to my surprise, God did very well fro me. With just 4 kg of the seeds I planted I have been able to get 500 kg from it; so it is a very big surprise to me; I therefore thank God for that."
Even though the crop has been tried at the garden some 12 years ago by a Norwegian man, and nothing much came out of it, Thomas Kargbo, by the grace and wonders of God, has been able this time around to realize a good yield out of the 0.03 hectare of land allocated to him by women of the garden supervised by a retired agriculturalist Haruna Manneh.
Mr Manneh, he said, did help him by allocating a portion of the garden space to him when he approached him and told him about his plan to make a try of the crop on the garden and see what might come out of it.
"So I went ahead believing in the Word of God that says, 'While the earth remains, seedtime and harvest, and cold and heat, and summer and winter, and day and night shall not cease'," Thomas says, adding that if God could form human being out of the earth, there is nothing He cannot create from or bring out of the earth.
He continued: "It was in fact a big surprise to the people in the garden – a very big surprise - when they saw how the crop was blossoming up to its harvest today - because this is something they had not seen before being done or cultivated on the garden - it has been a big surprise to them. Whenever they come to the garden some would come and see and even touch it for them to believe that 'yes this truly is Irish potato'.
According to Mr Kargbo, he sowed his first seeds of Irish potato on the land in December 2011 – "because this crop takes hundred days before it is fully ready for harvesting. At the 85th day you should stop applying fertilizer and chemical; you continue to give only water for the rest of the 15 days to complete the 100 days".
He said further: "This crop would go for about three months ten days. I am harvesting right now [in April]. And after harvesting I have to wait till the next planting season, because this is a crop you cannot plant in the raining season. We only do it in dry season – it starts around October and goes on to the cold season, because this is a crop that needs cold weather and atmosphere; that is why we start it immediately after the raining season; so by early January we start to harvest. And we can plant again around December to be able to harvest around this time – April – before the rains set in."
Mr Kargbo, a certified marketer, worked with M.A. Kharafi, a massive producer of Irish potato and other market crops in The Gambia, as a storekeeper for about two years before setting off on his own. Over this period he was able to learn the skill through the company's engineer brought in from abroad to produce the crop.
"The engineer the company brought into this country to produce the potato crop became my best friend," Thomas explained. "I really gained favour from him; so time to time I would ask him certain questions as regards the crop and he would answer me outright. That's how I learnt the skill.
"And when I was about to embark on my first try, I went there of late and saw the crop germinating by itself. I thought in my mind that "if I put this under the soil and give it water as I used to see it being done on the farm, something might come out of it"; so I bought 40 kg of seeds from the company which I used to plant. That is why I made this try and I thank God it has come out successfully. And this I have seen has given me more insight, inspiration and zeal to go into it, because I know my trial has come to reality and fruition."
In this time of crop failure in The Gambia that has formally been declared by the Government of The Gambia, Mr Kargbo has been able to add onto the produce of the land with such a highly needed foodstuff. He says he would like to give God the glory for enabling him to do farming and to produce such a highly needed foodstuff in The Gambia and Africa.
"I want to give thanks to the Almighty God because He does marvelous things; He does things beyond our expectations," Thomas noted. "This one is actually showing us that even in the midst of barrenness and hardship God can still do mighty and great things. This is showing us that because The Gambia is a peaceful country and also the President that God has given this country is a man after God's heart, who knows about nature, who knows about agriculture; that is why, no matter what is it, when one door is closed God will open others to assure His people that there is light at the end of the tunnel; because in this hard time, if God could perform this miracle, it is proof that there is something ahead."
Mr Kargbo thanked and commended all those who have assisted him in one way or another to be able to embark on farming and to cultivate the land of The Gambia to produce such crops as Irish potato, sweet potato, cassava, pepper, onion and cucumber.
He said: "I want to thank the people; I want to thank especially the man who is the overseer of this garden, Haruna Manneh. He is a very kind man, because when I came the first time, I told him about my intention to make a try on this particular crop. He received me very well and made me feel at home. He did allow me to prove my idea to see what will come out of it; so I am very grateful to him, because if he had closed the door on me, I would not have seen what God can do through me; so I want to thank him and also thank the people who gave me the encouragement that it would be good. I want to thank all of them."
Mr Kargbo, the qualified marketer cum farmer, also sent a word of appreciation to His Excellency the President, Prof. Dr Alhaji Yahya A.J.J. Jammeh.
"The President is my main motivator; he serves as the most important drive in me, because every day when I look at the TV, I hear the President calling on the people to go back to the land. Therefore since I am in the land and what God said to me that 'If I can use this soil to create human being, what else I cannot use this soil to do'; it gives me motivation; it inspires me to embark on farming to eat what we grow and stop depending completely on food coming from abroad. So I want to say to President Yahya Jammeh, 'Thank you very much Sir for your encouragement and motivation, and for setting good examples'. I thank God, Who has given me the wisdom to humble myself and reside now in The Gambia and till the land."
Mr Kargbo concluded: "I pray that not only me/I will be able to go on with this idea; even the old and young women would also be able to develop the skill of how to produce this crop for the good of the country and Africa."
Agriculture is the economic foundation of many sub-Saharan countries, employing more than 60 per cent of the region's workforce and accounting for some 30 per cent of gross domestic product. Africa, therefore, needs increased productivity in its agriculture and higher incomes in its rural areas and communities.
For Comments, suggestions, and information, please email saineymarenah@ymail.com or call +2203471343
Agricultural Spectrum Catchword of the Week:
" Let grab the Opportunities in soil."
Read Other Articles In Article (Archive)