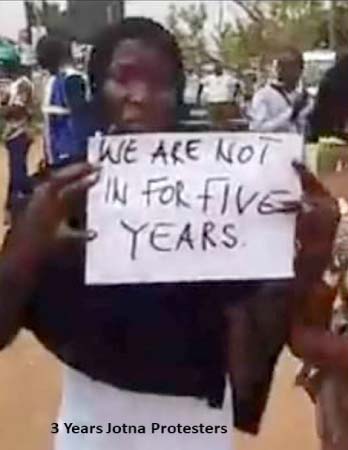 Gambians in the Diaspora have turned a deaf ear to a call for them to protest against President Barrow's desire to stay beyond the three years coalition agreement.

A source who spoke to our reporter on the condition of anonymity, said some Gambians in the Diaspora in the past weeks were mobilising people to protest in Brussels on 29 November.
Our source further added that majority of Gambians in the Diaspora have denied participating in what they described to be a 'so-called' protest and vowed to defend the five years as dictated by the constitution.
"The 3 Years Jotna members in Spain, U.K. and U.S.A. were calling for mass demonstrations at the European Union in Brussels. They were mobilising people through voice-messaging platform- WhatsApp among other means. However everything went futile and Gambians didn't pay attention to their calls. I can tell you only few of them turned out, it was even a disgrace to them."
The source added that even though EU recognises protest as part of democratic processes, however, the stance of EU on this so-called 3 Years Jotna issues is for constitutionality.
"The issue of 3 Years Jotna is dying in Europe. And I think it's high time Gambians understand the significance of peace and stability. I can tell you that many of us here in Europe are not supporting the so-called 3 Years Jotna, as we are in for the five years."
Diaspora Gambians in Europe, our source added, are also calling for constitutionality, hence only a handful Diaspora Gambians responded with most not paying heed to a call by 3 Years Jotna for massive demonstration.
Meanwhile, the non response to the Brussels call for a mass demonstration comes on the heels of report of mass resignations by most of the 3 Years Jotna executives, due to internal wrangling and split as report reveals.
Read Other Articles In Article (Archive)