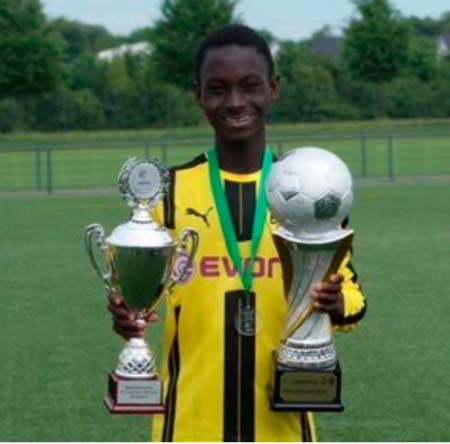 Lamin Touray, Borussia Dortmund´s Gambian born youth player has been celebrated and awarded best German U-15 player in the 2016/17 footballing season, after helping his team win both the U15 league and the supper cup.

His team emerged top in the German U-15 league, in which Lamin was so influential. He also help the team beat Preußen Münster by 3:1 in the U-15 supper cup final.
Lamin, 14, a son to Gambian parents was born in Basse Dambpa Kunda, later moved with his parents to Dortmund, Deutschland at the age of 4, where he is up to date residing.
The young proflic left attacker, who puts on the number 19 jersey, joined the Dortmund youth two years ago and since then emerged as a regular starter. He have scored 8 goals and provided numerious of assists in the last football campaign as Dortmund U-15 player.
A top football official in Dortmund, close to Lamin and his family, describes him as a star in the making.
"He gets a great potential and if given the necessary support, he could be a great player in the near future," he said.
"Seeing him play is just like watching Marco Reus play, he is just a star with great skills who surprises people whenever he is on the pitch".
In his two-year stint with Dortmund youth team, he played against other teams in Europe and he is scoring and providing assists to his teammates, he is just a fantastic player, the official added.
Speaking to this reporter, lamin said he was very happy and felled honoured to win such an important award in his life.
"I am very happy to win this award, am commending the management of Dortmund, my teammates and family for the support rendered to me in my two year stint in the youth team," he said.
"I am playing with the aim of reaching the top, I want to be a professional player and represent my country, The Gambia in the future. Over the years, I have the honour to play against other European teams like Real Madrid, Chelsea, Arsenal, Ajax, Benfica, Lisbon and others, that make me feel good."
Reacting to Marco Reus´ comparison, the lad said, "When I play, my friends and other people say to me that I play like Reus. Am not trying to copy his style of play but rather playing my own way and trying to be myself," he said.
But that does not stop him to voice out his admiration to France international Ousman Dambele as his star player.
Asked about Gambian football, he said, he does not know much about Gambian football now, but his future dream is to represent the tiny country in major competitions like African Cup of Nations and World Cup.
Lamin does not only play football but he is also a Grade 8 student at a school secondary in Dortmund, and he speaks fluent Mandinka and Deutsch.
Read Other Articles In Article (Archive)