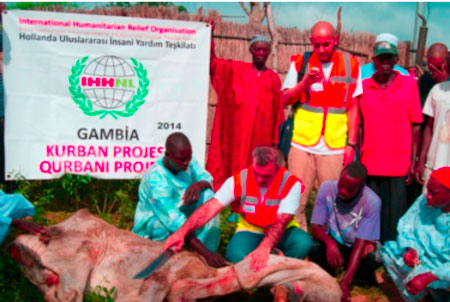 According to the country director of Cemiyatul Hayr Relief Organisation, Musa Jallow, Gambian Muslims have benefited from a one million dalasi package from their counterpart organization, called International Humanitarian Hulporganisation Nederland (IHH) during this year's Tobaski.
He said the monies were used to buy 55 bulls and to run its transportation cost upcountry and other expenses; andthe distribution was witnessed by IHH Netherland officials.
Musa Jallow who was speaking in an interview with reporters at his office in Churchill's Town on Monday, said the International Humanitarian Hulporganisation (IHH), a Netherlands-based organization, sent one million dalasi to buy animals for Gambian Muslims to help them ease some of the burden during the Tobaski feast.
He said with this money, his organisation bought 55 bulls and distributed them in the Greater Banjul Area, Lower Fulladu West in the Central River Region and its catchment areas.
The distribution was conducted by his organisation in collaboration with some representatives of the IHH Netherlands with the help of some local authorities like the chiefs to their various villages and communities.
The chief of Lower Fulladu West, Momodou Baldeh, thanked the IHHNL organisation based in Holland for the humanitarian gesture by providing more than 50 bulls for the Muslim community, particularly in his district.
He noted that the provision of the 50 plus bulls and the meat was distributed to the needy to ease the problems of Gambians.
The Lower Fulladu West chief talked on the importance attached to helping the most vulnerable people, considering the price of Tobaski ram this year was expensive, and which the majority of the people could not afford.
He described the gesture as a step in the right direction, which greatly helped Gambian Muslims during the feast.
He appealed to the donors to bring more next year for Gambian Muslims, considering the cost of animals and the earning capacity of the people.
The head of the team and delegation from Holland, Mucahit Batman, thanked the beneficiaries for their warm welcome in The Gambia.
He said the purpose of their mission was to see for themselves the projects, and the way the bulls were distributed to the beneficiaries.
Providing this gift to Gambians was a sign of brotherhood and love for humanity, he added.
Read Other Articles In Article (Archive)