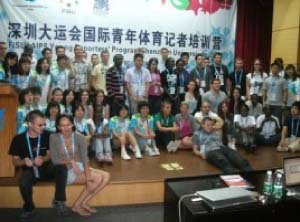 Gambian sports journalist Abdoulie Bah on his experience on the International Sports Press Association young reporters programme that is taking place in Shenzhen, China.
Once a dream and now a reality, just two months ago I was living in the world of fantasies and wondering how it would be on Chinese soil for the AIPS – FISU Young Reporters programme and the 26th Summer Universiade Shenzhen.
It took me quite some time to believe that I had been selected by AIPS to attend this programme but of course later on accepted and considered myself and The Gambia as lucky because of the several benefits I would get to further develop my career in Sports Journalism.
Being the only Gambian around the pitch and tracks in Shenzhen, I certainly have a lot tell. Traveling is indeed about seeing and experiencing places. The first impression I got right from Hong Kong airport has been fantastic as a sizeable hospitality team was visible in every street corner making sure we were warmly welcomed.
With a few international sports activities I have attended, this is by far the best experience ever. As a young reporter, I am highly impressed by the remarkable work done by the organizers. Their determination, positive attitude passion for sports development globally is exceptional.
I am even beginning to believe that whosoever lives in China is welcoming and that smiling to a foreigner effortlessly is not unique to The Gambia, fondly referred to as the smiling coast of Africa.
I was mesmerised with the advertising strategy of the world university games; almost the whole of Shenzhen province is painted 'START NOW, 26TH SUMMER UNIVERSIADE…' no wonder it's often nicknamed 'the SMALL OLYMPICS'. This alone captures everyone's attention (local and international) to follow the games.
This is just the beginning and I am looking forward to seeing how Shenzhen can surprise me more.
Read Other Articles In Article (Archive)