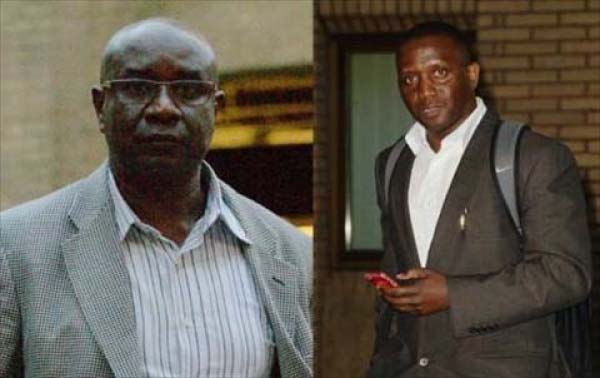 Gambian diplomats who sold tax-free tobacco from their London embassy have been found guilty of cheating the UK taxpayer out of almost £4.8m.
Deputy head of the Gambian Diplomatic Mission in Kensington, Yusupha Bojang, and his colleagues ordered 29 tonnes of rolling tobacco over three years.
They imported more than half a million 50g pouches at tax-free rates for personal or High Commission use.
Much of it was sold from the embassy, the Crown Prosecution Service said.
Because it was sold and not actually for personal use, VAT and excise duty should have been paid, the CPS added.
The trial was held at Southwark Crown Court in London.
Bojang, first secretary Gaston Sambou, welfare officer Georgina Gomez and finance attaché Ebrima John, who all had diplomatic privileges, along with Veerahia Ramarajaha, Audrey Leeward and Hasaintu Noah, were found guilty of conspiracy to cheat the Inland Revenue .
Ramarajaha was also convicted of dealing, harbouring, concealing or carrying dutiable goods.
Another defendant, Ida Jeng Njie, was found not guilty of conspiracy to cheat the revenue.
Immunity waived
Lisa Rose, specialist fraud prosecutor at the CPS, said the group's deception involved a serious breach of the trust of their own government and of the British people.
"The scheme they designed and implemented not only resulted in the public purse being cheated of almost £4.8m in tax revenue, but it also abused their diplomatic status, taking advantage of the entire system of diplomatic privilege which is reliant on trust and responsibility," she said.
"For all practical purposes, the scheme in operation was like running a business and the volume of tobacco was so large that to suggest it was for personal use, or for the use of the High Commission, is implausible."
Ms Rose also thanked the government of The Gambia, which waived diplomatic immunity for four of the defendants.
"The public should have confidence that in cases where our tax systems have been exploited, all steps will be taken to ensure that diplomatic staff cannot commit offences and then hide behind diplomatic immunity," she added.
Those found guilty were remanded in custody and will be sentenced on Wednesday.
BBC
Read Other Articles In Article (Archive)