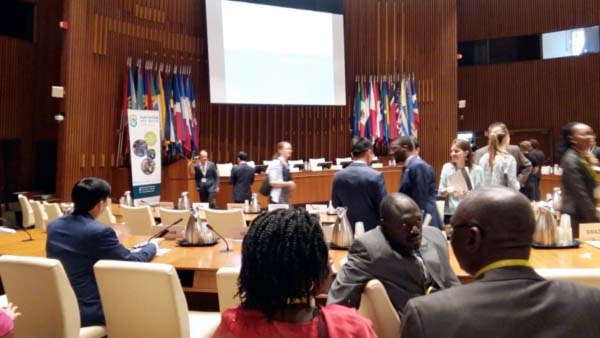 A Gambian delegation namely; Hon. James F.P Gomez Minister of Fisheries, Water and National Assembly matters, Hon. Saffie Lowe-Ceesay Minister of Health and Social Welfare, Hon. Lamin B. Dibba Minister of Environment, Climate Change and Natural Resources and Modou Njai Director of Health Promotion and Education, has recently returned from a high-level ministerial meeting on water, sanitation and hygiene, held in Washington D.C. in the United States of America.

Speaking on behalf of the Gambian delegation, Modou Njai, director of health promotion and education, said the participation of these Gambian institutions was a clear demonstration of a strong partnership in the drive to meet Sustainable Development Goal 6.
He thanked the UNICEF country representatives for facilitating the participation of the Gambian delegates through technical and financial support.
"We do hope that the strong partnership that exists between the key sectors in the area of water, sanitation and hygiene (WASH) will be strengthened in all levels," Mr Njai said.
He said the sanitation and water for All (SWA) is a global alliance of over 150 partners, 50 of which are governments from low and middle income countries, donors, civil society organizations and other government partners working together to catalyze political leadership and action to improve accountability and the use of scare resources more effectively.
According to Mr Njie, SWA is a global partnership that supports government-led national processes to ensure sanitation, water and hygiene for all.
He said UNICEF hosts the secretariat of the SWA partnership which is responsible for supporting the chair of the steering committee as well as other members.
The ultimate goal of the partnership was to achieve universal access to safe drinking water, supply sanitation and hygiene.
According to Mr Njie, ending open defecation was one of the commitments made by the government of The Gambia at the high-level global sanitation and water for all meetings in Washington in April 2012 and 2014 as well as the 2015 Africa SAN 4 Conference in Dakar.
Africa SAN 4 with the theme; "Making sanitation for all a reality in Africa," is a highly successful forum helping to realize the ethekwini commitments, South Africa- Johannesburg in 2008 as well as being well-positioned to build momentum on sanitation and hygiene for the sustainable development goals.
Mr Njie further stated that in responding to the question on how could countries achieve ambitious, safely managed sanitation services, while reducing inequalities, given that people still do not have a basic level of services, The Gambia was able to reduce sanitation inequality through the implementation of a community-led total sanitation approach which was cost-effective and sustainable.
He said the presentation highlighted practical approaches and solutions in ending open defection and promoting hand washing with soap and running water.
The participants were drawn mainly from Latin America, Asia and Africa.
He said during the presentation that eliminating inequalities in access to sanitation was a priority for the government of The Gambia.
The presence of strong support to end open defecation and improving water and sanitation services, coupled with a strong political commitment was highlighted in the presentation.
Read Other Articles In Article (Archive)