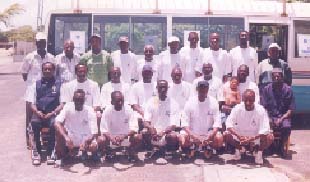 Football Veterans of The Gambia on Friday 24th July 2009 collected a narrow one-nil win over neighbours Senegal to clinch the international veteran football championship trophy in the finals at the Independence Stadium in Bakau.
The Senegalese substitute, Alione Ndiaye, twice threatened to put his side ahead but his efforts were frustrated by a well composed Gambian defence led by center back Joe Tennis in the 27th and 47th minutes respectively.
The Gambian side anxious to snatch their first ever international veteran championship title, scored the only goal of a hard-fought encounter, courtesy of Lang Tombong Tamba's 57th minute strike from a well-taken penalty.
The win is the Gambia veteran's 3rd in a row having earlier in the 6-Nation championship eliminated the likes of Guinea Bissau, Sierra Leone and Senegal Team B (Thies), before proceeding to edged past the Dakar side in what could be described as a successful championship final despite a poor turn-out from the spectators.
This earned the former international stars a giant trophy and gold medals, while the runners-up Senegal Team A got Silver, and Bronze went to Senegal Team B who thrashed Gambia Team B  4 - Nil in a third position match with goals from Amadou Wally, Kawsu Drammeh and a brace from Striker Yusuf Diop.
Major General Lang Tombong Tamba who played an instrumental part in helping Gambia win the trophy was voted as the most outstanding player of the tournament.
The championship which was organised as part of the activities marking the July 22nd anniversary celebrations is aimed at strengthening the bilateral relationships among the invited participating countries.
Other developments of the Veteran tournament are firstly that the event has been officially named the Union of Zone II Football Veterans.
Secondly, Sierra Leone was elected as hosts for the next tournament. Thirdly, Gambia has been selected as headquarters for the Union, which goes beyond just football, and has wider objectives for sub regional peace and integration at grassroots level.
The bad news is that the Mauritanian bus was involved on Friday in a road accident in which six players sustained injuries, and one player Mustapha Ndow died in the accident.
According to sources from Gambia Veterans organisation, letters of condolences have already been despatched to Mauritania via the Senegalese team, and also to the Mauritanian Ambassador in The Gambia.
Furthermore, a contingent comprising Gambian Veterans and the National Sports Council left early Sunday to offer condolences and take gifts to the family of the deceased. The contingent was headed by the President of the Veterans Organisation, Mr. Amadou Touray, and the Interim Chairman of the NSC, Mr. Mustapha Alex Da Costa.
Meanwhile the rest of the delegation all left yesterday with Sierra Leone boarding their plane at 2pm.
Read Other Articles In Article (Archive)