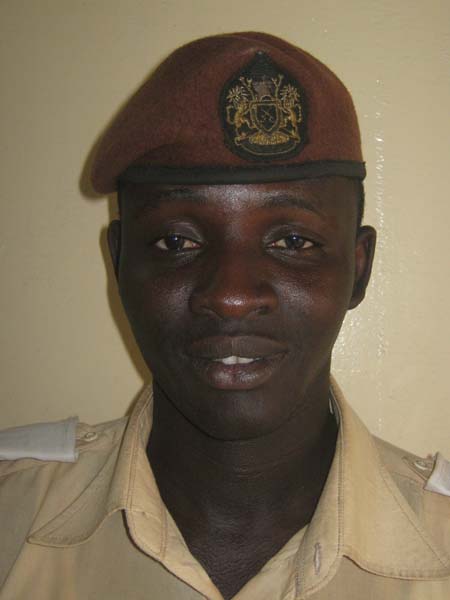 Cadet Inspector Laimn K. Manneh public relations officer for the Gambia Immigration Department has stressed that The Gambia will never be a safe haven for undesirable persons and criminals, as far as his department is concerned.
This statement by the Immigration PRO follows the crackdown on illegal immigrants, vagabonds and other undesirable persons within the Kanifing Municipality and its environs, over the past few days.
According to Cadet Inspector Manneh, the majority of these persons normally enter the country with valid documents, but once they enter the country, they never regularise their status, and in some cases engage themselves in activities that do not conform with Gambian norms and values.
On aliens registration, the GID spokesman noted that registers are sent to all regions of the country, and issued to all village and town alkalolu or village head. This is to ensure that all aliens in the country are registered with the alkalolu of their various communities. He advised alkalolu who are yet to receive these registers to contact the regional immigration commissioners.
He also called on all aliens to register with the alkalolu of their communities, and to regularise their status by either obtaining residential permits or extension of their stay.
Mr. Manneh also urged landlords, local authorities, village development committees, council of elders of towns and villages, to actively play their part in the efforts of the immigration authorities by ensuring that every alien in their area is registered.
Harbouring of illegal immigrants, he went on, is unacceptable. He then called on landlords, and other premises owners, such as lodges and brothels and property agents to never allow any alien or group of aliens to reside in their houses without regularising their status with the immigration department.
Whoever does so, he stated, violates the Immigration Act, and will be dealt with according to the law.
"Members of the public are equally advised to be vigilant on the activities taking place in their communities, and to report any activity that is not in line with the laws of The Gambia to the nearest security agency," he added.
Manneh further noted that the ongoing campaign of raids will be further intensified, with constant patrols along our national frontiers.
He therefore called on the members of the public to always cooperate with immigration personnel in the execution of their duties.
According to him, all their actions are geared towards making The Gambia a better, and tolerant place, and a safe haven for not only Gambians, but non-Gambians as well.
Read Other Articles In Article (Archive)