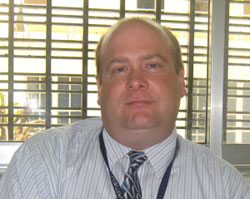 The Consular Section of the United States diplomatic mission in The Gambia has announced some minor changes in its visa procedures at the US Embassy in Banjul.
The changes, due to take effect from 1st March 2011, will include new fees payment and appointment procedures for applicants for US visas.
Beginning 1st March 2011, the US Embassy announced, the visa fee can be paid at any ECOBANK or Reliance Bank branch as fee payment will no longer be accepted at Standard Chartered Bank.
Addressing a press conference convened by the embassy and held at the American Corner yesterday, the US Embassy Banjul Office Consular Officer, Michael K. Fitzpatrick, told journalists that applicants will no longer receive their appointment date at the bank.
"Instead, after paying the visa fee and submitting the visa application (DS-160) online, applicants will book their appointment either online or via telephone.
To schedule an appointment, individuals should visit http://www.ustraveldocs.com or may call 220-776-8017," he said.
According to Consular Officer Fitzpatrick, all visa interviews at the US Embassy in Banjul are handled on an appointment basis only.
"Appointments can only be booked after March 1st 2011 through the website, and the telephone number provided above.
Additionally, individuals should use these two options to receive general information about a US visa, instead of contacting the consular section at the US embassy directly," he added.
He said: "Applicants who have paid their visa fee at Standard Chartered Bank prior to March 1st 2011 but did not attend their interview should contact the Consular Section directly at consularbanjul@state.gov  from March 1st 2011."
While commending the public for their understanding and co-operation through this transition, he urged people to note that an online visa application must be completed, and required visa application fees must be paid, before an appointment can be scheduled.
The improved services, Consular Officer Fitzpatrick added, will be of immense benefit to the applicants.
He told journalists that the US Embassy is striving to make the visa procedure more efficient and user-friendly, noting that, last year, the Embassy introduced the electronic application system.
He said they have also set up a call centre where applicants can now go to get general information about visas, schedule their appointment and to request appointment dates.
"Basically all the steps in appointment processes, the payment of visa fees will be handled through the call centre and the website," he stated.
"After the individual has paid the visa fees and received a receipt from either Reliance or ECO Bank and submit their DS-I60 application online, and printed out the confirmation page, they can even call 220-776-8017 from Mondays to Fridays or log on http://www.ustraveldocs.com," he further announced.
Michael Fitzpatrick is of the conviction that the changes will greatly improve the visa application process.
Read Other Articles In Article (Archive)