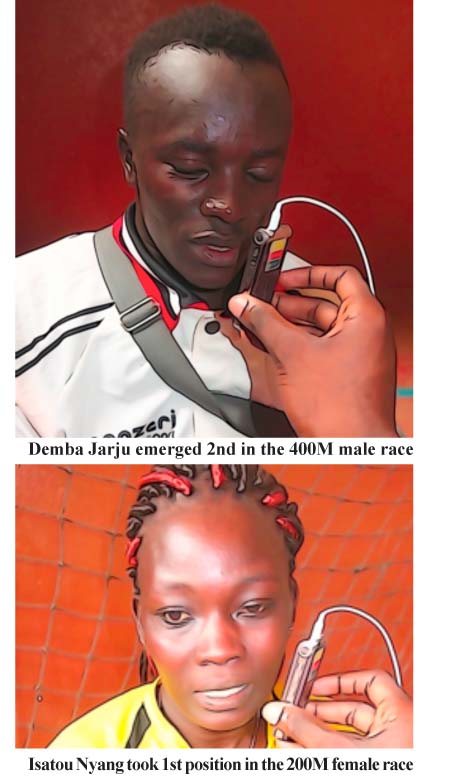 The 2012 London Paralympians, Isatou Nyang and Demba Jarju, have something to celebrate for once again after they finished 1st and 2nd positions in the 200M female and 200M male wheelchair races respectively at the 3-nation sub-regional Paralympic competition in the Guinean capital of Bissau.
Isatou Nyang finished 1st position in the female race, while his counterpart Demba Jarju finished 2nd position in the 400M race for male.
Ali Kah also of Gambia finished 4th place in the 400M race.
The races took place on Wednesday evening at the Guinean national stadium in Bissau.
Meanwhile, both athletes have dedicated their victories in Bissau to the Gambian leader, His Excellency Sheikh Professor Dr. Alhaji Yahya A.J.J. Jammeh, Babili Mansa, and the entire Gambian people.
Nyang, who has represented The Gambia in the 2012 London Paralympic Games, said she did not prepare for the race, but her experience played a big role.
She therefore calls for support and prayers as they prepare for qualification for the Rio Paralympic Games in 2016.
Demba Jarju, on the other hand, was quite a happy man, while returning thanks to the Almighty Allah for the victory.  "I have nothing more than my country and therefore any kind of competition I will endeavour to raise my country's flag high," said Jarju, who also represented the country in the London Paralympic Games.
Sulayman Colley, president of The Gambia National Paralympic Committee, was full of praises for the two Paralympians for winning something for the country in Bissau.
The performance, he said, is very encouraging, as they prepare for the qualifiers for the 2016 Rio Paralympic Games.
Basketball final
Meanwhile, Guinea Bissau beat Senegal 7-6 in a final played at the Amilcar Cabral University in-door basketball court on Wednesday afternoon.
Disability Day celebration
The Gambian Paralympians on Thursday morning joined their Bissau Guinean counterparts to celebrate together the globally observed World Disability Day.
The celebration began with march-past through the main highway in the Guinea Bissau capital city. 
Read Other Articles In Article (Archive)