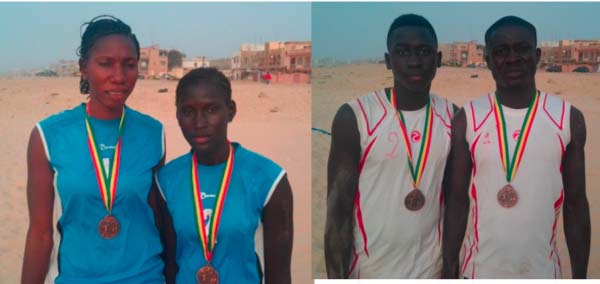 The Gambia beach volleyball team has returned from Senegal after participating in the qualifiers for the All Africa Games in Zone II.
In day one of the competition The Gambia's men lost to world 25th ranked nation on beach volleyball Sierra Leone 2-0 ( 21-19, 21-17) while the Gambia's female team revenged for their male counterparts who lost against the same country 2-0 ( 21-13, 21-16).
The Gambia female team lost to Senegal and Guinea respectively in day two of the tournament thus unable to qualify.
The men team compensated the women team after making another history by defeating Senegal Men senior team 2-0 (27-25, 21-18).
The two sides met in a decisive match where the two Gambian pairs represented by Malick Jammeh / Babucarr Jarra surprised the hosts Senegal to win in the derby matches of the combat.
The young Beach Volleyball players emerged from a re-energized Gambian NF that has recently changed leadership.
The win was therefore a glorious one, especially against the backdrop of huge opposition from her towering neighbours.
The Men's match against Guinea showed again ambitious Gambian double pair of Jammeh /Jarra drew first blood in the first sets.
Their resilience coupled with a strong winning mentality raised their ratios.
Gambia then overcame Guinea 2-0 (21-16, 21-11) after a thrilling performance.
The Guineans lost to the exuberance of the upcoming talents of the Gambians.
The final outcome of the 2-day tournament showed Senegal and Guinea women teams qualifying for the All-Africa Games whilst the results of the men showed a stalemate between three countries - The Gambia, Senegal and Sierra Leone.
According to the results each of the three countries at the end of the tournament has got two wins of two sets to zero, meaning they are all equal both in points and in number of sets won and lost.
Therefore the head-to-head rule was also not possible to separate the three teams. It is now left with CAVB to decide.
Read Other Articles In Article (Archive)