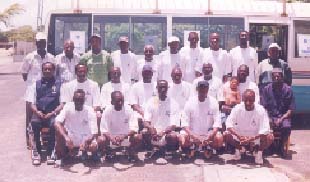 The Gambia National Football Veteran team was unfairly treated by the host country, Sierra Leone on Monday during the finals of the second edition of the Zone II Veteran Tournament, organised by the Union of Veteran Footballers held in Freetown, which ended 1-1.
Speaking in an interview with Pa Suwareh Faye, the Head of the Gambian delegation shortly after the game, Mr. Faye stated that Sierra Leone defaulted with all the rules and regulations of the competition. He noted that the rules clearly state that the age limits of players for the tournament is 45years and above, and that players were supposed to produce their national passports, but to his surprise the host country failed to observe the rules.
He pointed out that during the game the Gambian official had realised that a Sierra Leone player was featured in the game, who does not have the required age and after noticing this during the match they filled an appeal to complain about the said player to the organisers. But the local organising committee did not even wait the union to take decision and went ahead to declare the host nation as the winner.
For his part, the Executive President of the Union of Zone two Veteran Footballers, who also doubles as the President of the Gambia Veteran Football Society, said he was very disappointed with the decision taken by the local organising committee of Sierra Leone. He noted that the union would communicate to all its members to inform them about the unfortunate decision taken by the host country.
Alhagie Momodou Beri Njie, a member of the delegation said in all his career as a footballer, what he has seen in Sierra Leone had never happened anywhere in the world, "by giving victory to themselves without any winner of the competition."
Mr. Njie said Sierra Leone did not stop there, but went ahead to award Mali, who did not even take part in the tournament, due to late arrival with a trophy and silver medals.
He added that a series of technical meetings were held to address some of the problems confronting the tournament, but the host country did not honour any of these as stated.
Joseph Toby, a member of the organising committee of Sierra Leone said they have done all their best to explain to the Gambian about the issue of passport, but The Gambia did not understand them as some of their players were having I D cards.
Asked why they decided to award the winners trophy to themselves without waiting the union to take a decision, he said despite the fact that there was no winner in the final, their team has scored more goals than The Gambia.
Meanwhile, Mali is expected to host the third edition in Bamako.
The Gambia team is expected back home 30 April 2010.
Read Other Articles In Article (Archive)