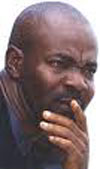 The Head Coach of the Nigeria U-17 team, John Obuh, has urged The Gambia U-17 team to remain upbeat, despite their 2-0 loss to the Golden Eaglets of Nigeria during the Monday friendly international match, played at the Brikama Box Bar Stadium.
Both teams had had a 1-1 draw earlier on Saturday at the Independence Stadium in Bakau.
Coach Obuh gave these words of encouragement in an exclusive interview with this paper at the residence of the Nigeria High Commissioner at Cape Point during a post-match reception held for both teams by the Nigeria High Commission.
He said: "They should learn from it and remedy their weaknesses and improve on their strengths. For both teams, the friendly matches were part of building process for the U-17 World Cup due to take place at Nigeria next month."
It is unwise, he added, to over-rate or under-rate any team now on the basis of the friendly matches. "What you see during the friendly matches might not be what you will see in the World Cup proper," he said.
According to him, both teams have to step up their preparations to be worthy representatives of Africa at the World Cup tournament.
"Certainly, The Gambia U-17 team has its own plans, strategies and tactics that will leverage its performances," he said.
Commenting on the MRI age test that led to about 16 players being axed from the Golden Eaglets squad, Coach Obuh said: "We just wanted to do the right thing."
He disclosed that his boys would lock horns with Germany, Uruguay, and Austria to put them in excellent shape for the U-17 World Cup.
"No group is easy," he said.
"All groups are the same because surprises can come from any group. The tournament is not about nations; it is about football," he concluded.
Read Other Articles In Article (Archive)