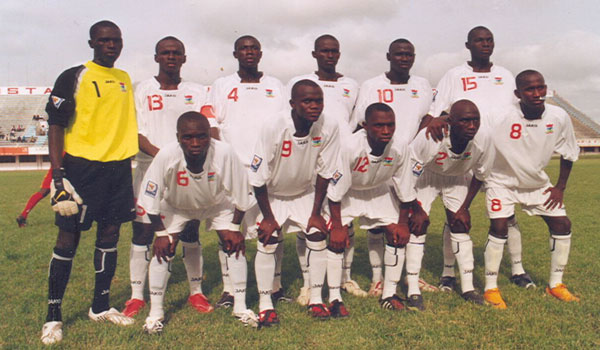 The Gambia National U-17 team were involved in a disappointing one-all draw against their Nigerian counterparts as part of both sides preparatory programmes before the start of the world football mega showdown, scheduled to take place in the Federal Republic of Nigeria on 24th October 2009.
The Gambia took an early lead through striker, Buba Jallow alias Melez when he capitalised on a defensive error to nod home the Darling Scorpions only goal of the game with only 23 seconds on the clock.
Having already established himself as a goal machine in the Gambian team, Melez continued to saw the impressive performance which earned them a call-up to the recent U-17 team, with his wonderful run of form in recent times.
The Nigerian team that endured some frustration moments as a result of the MRI test they underwent recently have shown credible performance, but their efforts of any leveller proved futile in the first period.
The Gambia U-17 team had a bright start to the game but seems to be affected by the Ramadan in the second period.
Melez who was also voted as the leading goal-scorer in the just ended Pepsi Academy Football Tournament in Nigeria recently nearly doubled The Gambia's advantage in the 57th minute, but his powerful effort went wide.
The Super Eaglets that proved a better side of the day levelled the lead, courtesy of a low shot from substitute Omoth Ajabu in the 68th minute, thanks to a brilliant contribution by team-mate Laure Kayodoe.
John Obuh, the Head Coach of the Super Eaglets in an interview with reporters shortly after the game blamed his boys for the lack of concentration resulting in The Gambia's goal in the early stage of a poor attended friendly match.
"My boys were not ready to start the game very well and they did not play up to the expectation because the match was supposed to be my victory," the disappointed Super Eaglets Coach told reporters.
His Gambian counterparts Tarik Siagy told reporters that the game was only good for Ramadan.
He was referring to the fact that the boys failed to win the game, due to the fact that they were keeping fast while the Nigerians were not fasting which eventually gave them an added advantage.
The two sides as part of the second friendly match will meet at the Box Bar Mini-stadium in Brikama later today.
Read Other Articles In Article (Archive)