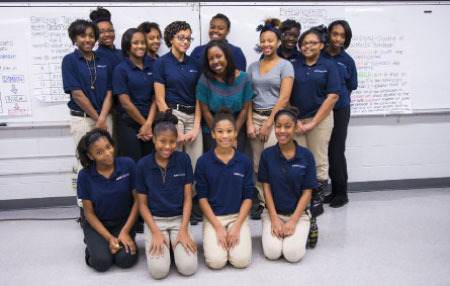 The Gambia will host the Girls Leading Our World (GLOW) Leadership Conference from Thursday, June 6th to 8th, 2013 at the conference hall of the Association of Non-Governmental Organisation (TANGO) in Fajara.
The conference will host 30 Gambian and 10 African-American female teenage leaders for a three-day event exploring social change, economic justice, women's empowerment, and leadership. The young ladies will hear from a host of inspiring women leaders and build relationships beyond borders.
The conference was organised and hosted by Women Empowering Nations (WEN), a United States-based NGO dedicated to the advancement of girls and women through self-esteem development, as well as educational, and leadership outreach programs.
Founded by Carlisha Williams, a growing social entrepreneur committed to empowerment, civic engagement and women's development, WEN's vision is to be a primary resource for inspiring, supporting and connecting female leaders so they grow in a capacity to lead and serve.
Strengthening communities by educating and empowering women, the organization firmly believes in the words spoken by President Ellen Johnson-Sirleaf of Liberia: "If you educate a man, you educate a family and a village. To educate a woman, you empower a nation."
Women Empowering Nations aims to improve self-esteem of young women, while aiding them with resources to accomplish their goals and transform their communities.
Thus, its Gambia leadership conference will enable girls to understand the society they live in, identify and analyze solutions for social development, and build life skills for important choices in their daily lives.
The targets of the conference include the following:
-           The Practice of Leadership - Gain the skills and conviction necessary to become a principled leader.
-           Self-Discovery - Grow in self-awareness and confidence to create the best you by growing personally, professionally and politically.
-           Human Rights and Social Justice - Learn how you can be a socially conscious leader in any career path by taking steps to creating a just and sustainable world.
-           Mentoring - Build long-lasting mentoring relationships with peers and accomplished women leaders, while learning to mentor others.
-           Citizenship & Civic Participation - Advance the development of social change by engaging in activism, politics, challenging bias, and embracing diversity.
-           Sisterhood - Develop strong relationships with girls and women from around the world that extend beyond the conference.
The climax of this great initiative will be an award ceremony to be held at the Jamaa Hall of the Kairaba Beach Hotel in Kololi where distinguished personalities will join WEN to honour and celebrate the achievements of the young girls through the conferment of certificates.
Women Empowering Nations local partner to this conference is Side By Side Organisation The Gambia, a national youth organisation in The Gambia.
Read Other Articles In Article (Archive)