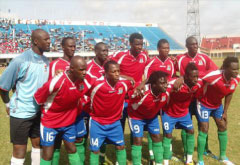 The Gambia will host Seychelles in Banjul in the first leg of the preliminary round of the 2015 AFCON qualifiers to be played in the weekend of 16, 17 and 18 May 2014.
According to the draw published on the Confederation of African Football (CAF) website on Sunday, the return leg will be played in the weekend of 30, 31 May or 1 June 2014.
Here is a rundown of the 2015 AFCON Draw: Match 5 & 6 Liberia vs Lesotho; Match 7 & 8 Kenya vs Comoros; Match 9 & 10 Madagascar vs Uganda; Match 11 & 12 Mauritania vs Equatorial Guinea; Match 13 & 14 Namibia vs Congo; Match 15 & 16 Libya vs Rwanda; Match 17 & 18 Burundi vs Botswana; Match 19 & 20 Central African Republic vs Guinea Bissau; Match 21 & 22 Swaziland vs Sierra Leone; Match 23 & 24 Gambia vs Seychelles; Match 25 & 26 Sao Tome e Principe vs Benin, Match 27 & 28 Malawi vs Chad; Match 29 & 30 Tanzania vs Zimbabwe and Match 31 & 31 Mozambique vs South Sudan.
Reactions- AFCON 2015 Draw
Paul Put: Burkina Faso coach
African football has grown a lot and there are no easy games at all but it is a good draw provided we play at our best, we stand a chance to qualify. Angola and Gabon are good sides and we know it's going to be tough against the other three teams. If you want to be at AFCON finals you have to do well in these qualifiers and Burkina Faso must be ready.
Constant Omari: President DR Congo Football Federation
In my opinion it is a fine group. Yes you look at Ivory Coast and Cameroun and one thinks what a difficult draw but as DR Congo and to the players, these teams - Ivory Coast and Cameroon - are familiar to us and we are capable of holding our own against them. So l think the group is level and all teams have equal chances.
Kalusha Bwalya: President Zambia Football Association
It is a tough draw and in today's football, especially on our African continent, everybody is a tough opponent. Niger is a strong side that we have played against in a number of years and we all saw what Cape Verde did at the AFCON finals last year in South Africa. They were the surprise team, so they will still be competitive. To add to the twist and toughness of it all the winner from the 2nd round could be one of our neighbours, Mozambique, Tanzania or Zimbabwe and it's never easy as these are derby games, so you can see why l say it's a tough draw but Zambia is always ready for a challenge and will give it a good go.
Juneidi Basha: President Ethiopia Football Federation
It is a strong group we find ourselves in, with Algeria, Mali and the winner of the 2nd round qualifier. I however think it is a possibility for us to finish first or second and we will aim for that. Yes it will be tough but after the progress we made reaching last AFCON and CHAN finals we want to maintain that record and even go better hence we have got new coach, Barreto, who will be leading our quest to reach Morocco 2015 finals.
Read Other Articles In Article (Archive)