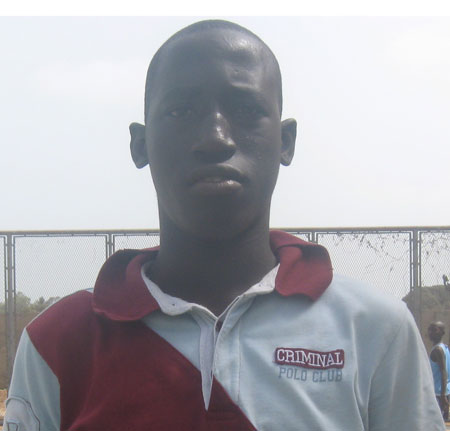 The Gambia Tennis Association is going through moments of grief following the death of one of its most dedicated, committed and promising youngsters, Buba Drammeh, who passed away at the weekend.
Family members of the late Drammeh are still struggling to come to terms with what they describe as a sudden demise of their beloved son, brother and cousin.  They spoke to Pointsport in an interview with this reporter who attended the funeral ceremony in Bakau on Saturday evening.
"Drammeh, at just 19 years of age, has been complaining of headache the past three days," said his elder brother, Yankuba Drammeh, whose face was beamed with sorrowful expression, in an interview with Pointsport in Bakau New Town at the weekend.
"Buba was complaining of headache in the past three days and was taken to hospital without delay in an attempt to receive treatment but could not survive the pain."
Asked whether the exact cause of Drammeh's death has been established, Yankuba said the doctors could not ascertain the exact cause of his brother's "untimely" demise but family members have attributed it to "a natural cause".
Yankuba Drammeh, also a member of the tennis association, described his departed brother and roommate as a close and dear member of the family.  "Buba is very close to me and we shared the same room," he said.
"We would always train together at the tennis court and his performances in recent times even surpassed mine.
"I remember travelling with Buba on many occasions to take part in series of international junior tennis championships such as in Senegal and Ivory Coast and he had proven to be one of the most promising tennis starlets in the entire tennis family."
The sad Drammeh said further of his departed brother and colleague: "The demise of my brother has left a great vacuum in both the tennis association and the family because he did work extremely hard to improve the standard of both parties or sides, particularly the Drammeh family.
"My mum and dad and the entire family members are in great shock. I can tell you this is because this is someone who has been working tirelessly to improve the standard of the family and there is no doubt that he will be greatly missed."

Editor's note: The entire Pointsport desk crew wish to extend condolences to the family of the late Buba Drammeh, a promising prospect in the country's tennis arena, whose demise serves as a great loss to Gambian sport, tennis in particular.
We would also like to use this opportunity to pray that Allah the Almighty grant the late Buba Drammeh the best place in heaven. Amen!
Read Other Articles In Article (Archive)