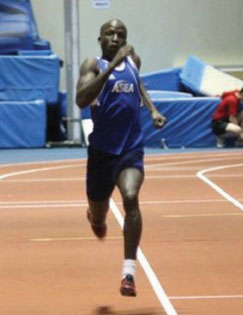 Gambian-born 400m distance runner Momodou Lamin Kujabi, widely called Inter, is looking set to participate in this weekend's 200 and 400m indoor tract athletic competition called Moncton Meet.
The highly rated athletic meet, which is slated for Saturday, 5 March 2011 in Canada, will be held the Provdence Arena in Canada.
The 17-year-old athlete who competes for Athletisme Sud-South East Athletics (ASEA, is also hoping to shine in the weekend's  indoor tract final as he continues to set his sight on earning a spot in next year's Olympic Games to be held in London, England.
The absconded Gambian athlete who won the Open Junior tract ASEA Moncton athletics competition in Canada on Friday finished the last athletics race at an impressive time of 7.23 in the 60m and 300m race at a time of 37.51 respectively in an exciting event held in Moncton New Branswich arena.
"Kujabi is a promising athlete who is really exciting to watch and his performance in the previous athletics competition including the last weekend's result are very much promising," said Kujabi's coach Gabriel Lebranc.
"Kujabi took part in New Brunswick, Eastern Canadian competition and also competed in the Athletisme Sud Est - South East Athletics championship (ASEA) with some amazing results to be proud of," said Gabriel, who spoke highly of the 17-year-old Gambian athlete who was believed to have absconded in Canada where he joined the rest of other athletes around the world for the World Junior Athletics championship last year.
At the Gagetown Invitational competition in CFB Gagetown, NB, on November 20, 2010 Kujabi, who was awarded the most outstanding athlete of the year 2009 by the Sports Journalists Association of The Gambia, last April was also the winner of the junior 200m after finishing the race at a time of 23.59.
He continued his brilliant run of form and eventually won another 400m race junior competition in a time of 52.76 in the process. 
At the Last ASEA meet held in Moncton NB on 18 December, Kujabi completed the 300m race finishing 2nd place at a time of 37.21.
He also participated at the Moncton open competition on January 15 last year and finished 2nd in the 60m with a time of 7.30.
The young track star has been training with ASEA since his controversial abscond in Canada on August 20, 2010.
He has quickly made a huge impact following the World Junior Track and Field Championships held in Moncton in the latter part of last year.
Read Other Articles In Article (Archive)