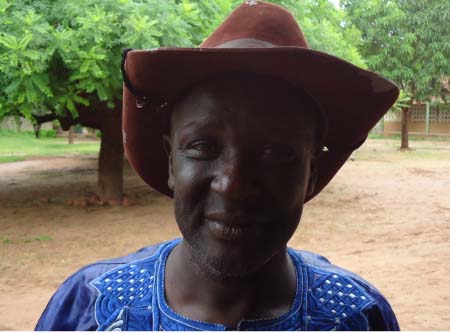 President of the International Fund for Agriculture Development (IFAD), Dr Kanayo F. Nwanze, Friday 22 August 2014 visited some of the IFAD intervention sites through the NEMA project in the Lower River Region and West Coast Region.
The IFAD President and his delegations were led to the sites by the Minister of Agriculture, agricultural project coordinators and some government officials, as well as youth organisations, civil society, organizations and members of the private sector.
The sites visited included the Pakalinding Rice field, Functional Literacy Program Centre in Sibanor, Coordinated in partnership with the National Women Farmers Association (NAWFA), as well as the Multipurpose Centre at Kwally village, erected by the Livestock Horticulture Development Programme (LHDP).
Speaking at Sibanor, the executive director of NAWFA, Njaga Jawo, who doubles as the head of the literacy programme, told the delegation that NAWFA is a membership-based association consisting of women.
He added that NAWFA is a countrywide programme that emanated from a programme run by USAID through the CRS for empowering women through nutrition.
He said it was realised that more women engaged in agriculture therefore they needed to diversify their production base to include sesame production, which is one of the three major crops in the country fetching lots of money.
Regarding the illiteracy programme, Mr Jawo said it was realised that literacy is one of the major constraints hindering women's progress in the country, because more than 80 per cent of their members are illiterate.
For this reason, he said, NAWFA started emphasising illiteracy as cross-cutting issues, adding that literacy and mainstreaming gender is a major activity that NAWFA had engaged in.
According to him, the main aim of NAWFA is to promote social and economic empowerment of women and the support that they got from NEMA was the one that has taken them from height to height.
He informed the delegations that the NEMA support was very useful and vital, and they are very grateful to be partnering with the NEMA Project.
The IFAD President, Dr Kanayo Nwanze, expressed total appreciation about the commitment demonstrated by the participants of the functional illiteracy class.
He said that was a clear indication that knowledge had been imparted in them to improve their livelihood through awareness creation.
"I am very impressed to see the women in Sibanor who have undergone some functional illiteracy class. This investment in the rural communities and in the women in particular has a multiplier effect in achieving community development, as well as national goal," the IFAD boss said.
Read Other Articles In Article (Archive)